Kate King and Renee Spierdijk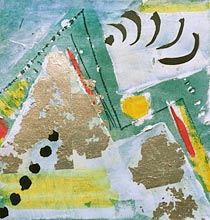 14 Nov 2008 - 2:45 pm

to

5 Dec 2008 - 12:00 pm
Kate King teaches fine art at Cambridge Centre for Sixth Form Studies and life drawing at King's Art Centre. She is exhibiting her small oil pastels together with more experimental mixed media pieces using layers of wax, gesso, ink, bleach and paint.
She has gathered her subject matter from years of photographing details of beautiful juxtapositions of colour and shape in the environment which often just happen for a fleeting moment.
Kate King studied fine art and ceramics at Cheltenham and Farnham Colleges of Art and Goldsmiths College, London. She has exhibited nationally and in Cambridge at Primavera and Ely Fire Engine House Gallery. 
For more information, contact Kate on kate.king4@ntlworld.com.
Renee Spierdijk's work is inspired by photographs of unknown children, mostly girls. She finds them in albums, newspapers, and on the internet. They are formal portraits reworked in colour.
As Sandy Goldbeck-Wood quotes in her essay on Renee's work: "But though wan, these girls are not dead. There remains a sense of their potential for breaking free and recovering from their half hidden psychic imprisonments. Some appear patient, others quietly mutinous, as they wait, and hope, to become themselves".