"il faut que je sois"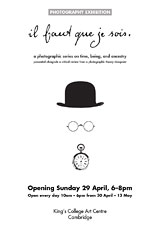 3 Apr 2012 - 12:30 pm

to

13 May 2012 - 11:00 am
Photography exhibition by Roeland Verhallen 
The photographic essay "il faut que je sois" (it must be that I am) was shot in Paris by Roeland Verhallen - a Cambridge graduate researcher in visual perception - using black and white medium format film and a Hasselblad 503CX. It explores the concept of time, the necessity of being, and ancestry.
The photographs will be presented alongside a critical review from the viewpoint of photographic theory, as delivered by Simeon Koole, a Cambridge graduate researcher in photographic history and theory. The exhibition creates a triad consisting of photographs, text, and viewer, thereby facilitating constant interaction and reinterpretation of all three elements.
For more information, visit the exhibition's Facebook page.