Fellow Artists - Fellow Muses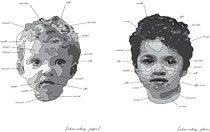 11 Nov 2012 - 1:45 pm

to

26 Nov 2012 - 12:00 pm
by Agnès Poitevin-Navarre
'Maps have the capacity to open worlds of reality and imagination' wrote Professor Jeremy Black in Remarkable Maps – Examples of How Cartography Defined, Changed and Stole the World. The art practice of Agnès Poitevin-Navarre epitomizes that idea. The exhibition at King's College Arts Centre is a wonderful platform to explore and engage with this conceptual artist's past and new body of work.
'The Art of Being Anecdotal' could be the subtitle of this exhibition that includes the 'Colour Coding' series, 'The Reader' and the magnificent 'Fellow Artists, Fellow Muses' installation that was shown last year at the Royal Geographical Society in London. This solo show also features new work such as the artist hair embroidered floorplans series as well as the newly commissioned 'Proustian Map of Cambridge', a collaboration with Cantabrigians that elaborates on the locals' greatest achievements and pearls of wisdom.
Agnès Poitevin-Navarre is a conceptual artist interested in the limits of categorizations and semantics. She graduated with an MA from the Slade, UCL, in 1997 and has since been exhibiting locally, nationally and internationally. She works across a range of media but is known primarily for her cartographic and anecdotal work. She uses maps as a shorthand to explore notions of identity, nationality and social codes. She also composes collages and masterminds installations, giving them a poetic twist. See the artist's website for more about her work.