Evolving Darwin's Gaze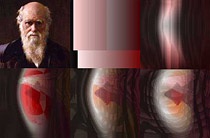 5 Jul 2009 - 1:45 pm

to

18 Jul 2009 - 11:00 am
Steve DiPaola
This installation of generative abstract paintings attempts to embody a cognitive approach to modelling portraiture. The exhibition asks the question - can you bring the ghost (creativity) out of the machine (the computer)?
Artist Steve DiPaola attempts to define the answer by applying Darwinian evolutionary techniques to the architecture of a computer program that generates unique expressions of the gaze of Darwin's face in John Collier's 1883 portrait (which has travelled back to Cambridge and will be at the Fitzwilliam during the show). The ever evolving families of related generative portraits strive to resemble the original, while at the same time are infused with computational interpretations of creativity.
In DiPaola's work, achieving Darwin's exact resemblance is not the goal, rather, it is to explore the creative process and evolutionary techniques as a medium for contemporary portrait painting. Evolving Darwin's Gaze coincides with the Darwin 2009 Festival, see www.darwinsgaze.com for additional information and to interact with a version of the paintings.