An Elephant in the Room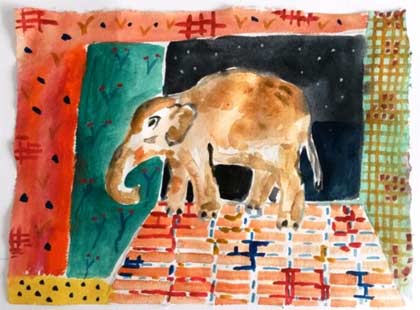 31 Oct 2015 - 12:00 pm

to

21 Nov 2015 - 12:00 pm
Recent Watercolours by Emrys Williams at King's Art Centre, King's College​
This exhibition will be an installation of recent watercolours selected by the artist for the Large Art Room at King's College. Watercolour is generally seen as a very traditional and conservative form of making paintings. In this show the artist exploits the liquidity, spontaneity and speed of the medium to create works in an intuitive manner.
The exhibition installation also responds to the space and challenges traditional notions of display. Subjects used in the paintings are diverse, often with juxtapositions of imagery that play with scale and pictorial space.
The paintings are made on Indian handmade khadi paper. This allows for physicality, a varied sense of surface and playful painterly abstraction which balances figurative motifs. The works have an intimacy and mystery, taking the viewer on a journey. All works are for sale.
Workshop – Exploratory watercolour
The artist will hold a workshop that explores the use of watercolour as a medium to open up possibilities for intuitive and experimental ways of working. There will be a talk about the exhibition and the artists approach on Friday 30 October at 5.30 pm.
A practical session for King's members will be led by the artist on Saturday 31 October. This will allow for individual ways of working inspired by Emrys's images and his methods. Detailed information will follow by email to King's members at the start of October.
Biographical notes
Emrys Williams was born in Liverpool in 1958 and moved with his family to Colwyn Bay on the North Wales coast in 1969. He studied at the Slade School of Fine Art, London (1976­1980). Since 1990, he has balanced his work as a professional artist with work as a lecturer at Coleg Menai in Bangor where he is currently joint co­ordinator on the BA Fine Art programme.
Emrys has exhibited widely in Britain and has shown in important group exhibitions including the 12th Liverpool John Moores Painting Exhibition (1982) where he was a prize winner and the Serpentine Summer Show (1983). He has held three one man shows in London at the Benjamin Rhodes Gallery and has had major public touring shows including: Sunny Spells (1995) organised by Oriel Mostyn/Berwick Gymnasium Gallery, touring to MAC Birmingham, the Glynn Vivian Swansea and Turner House Penarth; Various Fictions (1998), Collins Gallery, Glasgow; and Emrys Williams – Recent Paintings (2003), Oriel Davies, Newtown.
He has also worked with opera as artist-in-residence at the Welsh National Opera and also with film projects such as Sunny Spells – A Game for Optimists (1994) with Director Paul Islwyn Thomas. His work is in many public collections such as the Arts Council of England, the Government Art Collection, the National Museum of Wales and the Metropolitan Museum, New York.
In 2006 he was given a Creative Wales award by the Arts Council of Wales; prizes in Wales include University of Glamorgan Purchase Prize (2006), Artist of the Year Painting Prize, St Davids' Hall (2006) and the Gold Medal in Fine Art at the National Eisteddfod (2007).