Anthony Connolly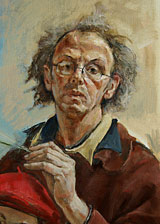 2 Mar 2013 - 12:45 pm

to

16 Mar 2013 - 12:45 pm
Anthony Connolly's observation of his sitters was described by the critic John McEwen as tender and searching. Likeness matters because it has truth in it. Paint, just as it is, seems to have consequence.
Connolly's work is a direct, sometimes clumsy response to the animate and inanimate alike. Close, painstaking observation adds weight and presence to pictures of people and quinces and whatever else comes into notice. Sometimes the exotic happens by, like the dead barn owl found by a neighbour. Objects, like unexpected callers, are welcomed into the frame, moved around, replaced and recovered.
The work is often made and effaced and made again. Thin layers are laid down over previous moments and failures until something dances on the surface. The repertoire changes slowly. There is something hospitable and humorous about these pictures.
Anthony Connolly is a member of the Royal Society of Portrait Painters. He trained at Goldsmiths College and has won several national prizes including the Prince of Wales Prize for Portrait Drawing and the Changing Faces Prize.
Anthony Connolly will be exhibiting a small collection of portraits and still lifes.