All the Colours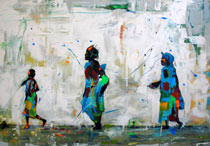 6 Mar 2011 - 2:15 pm

to

19 Mar 2011 - 12:00 pm
Paintings by Emily Kirby
An exhibition of acrylic paintings by Zambian-born artist Emily Kirby. 
Artist's statement
"I was born into a family of artists in Zambia in the early eighties. These roots have always had a deep impact on my painting. The majority of my work has drawn on the study of people I met during time I spent in Africa, Brazil and Europe. I have always been moved by the exotic and now living and working in London, I feel immersed in a fresh and exciting cultural melting pot.
I am fascinated by the concept of tribe and subculture and consider it to be a route of exploration offering endless possibilities. My primary aim is to explore techniques in which to portray people in a free and powerful way, in a celebration of their identity.
I have always been primarily concerned with the study of people, finding the figure to be a landscape in itself and people's emotions an invigorating challenge to capture. A loose style and bold colour combinations have become a defining aspect of my work."