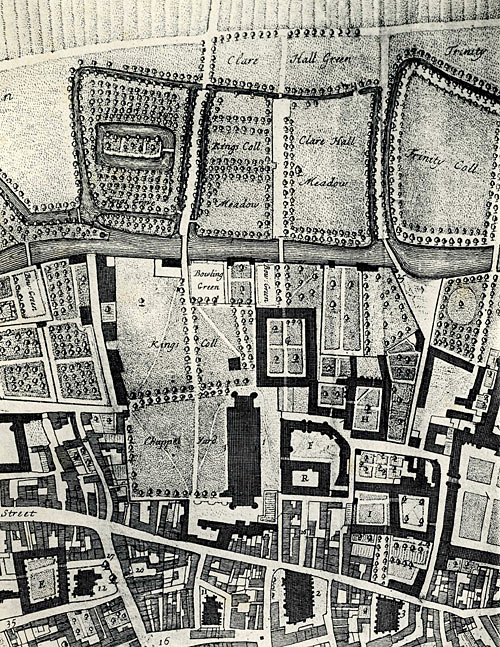 June 2010
King's was a pioneer of formal gardening in Cambridge. The college's green spaces date back to the sixteenth century, when King's cleared pastures and orchards and planted avenues of trees along the river. Over the next 100 years other colleges followed the example, and the open space between the riverside colleges and Queen's Road - The Backs - was created.
In 1732 the Gibbs Building was finished and the college planned a grand formal garden to complement it. At that time there was a bowling green and vegetable garden in what is now the Back Lawn. The lawn was cleared in the 1770s and the formal setting for the Gibbs Building at last established.
Initially, the path from the Back Gate led through the middle of the Back Lawn into the centre of the Gibbs Building. But King's Fellow and charismatic preacher Charles Simeon, who lived in the Gibbs Building in the early 1800s, disliked the route. In 1819 he had the path changed to its current position to the side of the lawn and the new King's bridge was built. In exceptionally dry weather you can still see the route of the old path across the Back Lawn.
The Fellows' Garden, on the west side of Queen's Road, was created in the early nineteenth century from space previously used as paddocks for the Provost's horses. It took another century for the garden to be opened to junior members of the College, and it is now occasionally open to the public under the National Gardens Scheme.
Unfortunately the archives contain little information about who planted the college gardens and what designs they had in mind, but the Governing Body and Gardens Committee minutes do hide some gems about the College's struggle to manage its green spaces. Some of the more enlightening (and even entertaining) decisions are given below.
26 April 1861: It was agreed that the office of Porter and Gardener be not held by one and the same person. (Governing Body Minutes)
6 May 1861: The college adopted W. Trotman's plan for a Summer-house with tool-house. The summer-house was built in the Fellows' Garden at an expense of £40, and  replaced in 1911. (Governing Body Minutes)
8 March 1866: The college purchased for £31 a Shanks' 48 inch mowing machine with patent delivering apparatus and silent movement. How to efficiently mow the Back Lawn, the Front Court and Scholars' Piece was a source of constant debate within the college. (Governing Body Minutes)
18 May 1945: Access to the Fellows' Garden was given to members of the BA table, Scholars, Exhibitioners and Choral Scholars from 9 am to 1.30pm during the Easter term and Long Vacation. (Governing Body Minutes)
8 March 1939:  The horse on Scholars' Piece managed to knock over the guard [fence] and nibbled the new Cornish elm and the Cornus bushes. Biggs, its owner, admitted that the horse had no food over the weekend and was probably hungry! (Gardens Committee Minutes)
24 Oct 1940: The college decided to plant a deep purple wisteria on the inside of the screen near the Chapel to replace the ivy. You can still see the marks left by the ivy on the Front Screen of the college.(Gardens Committee Minutes)
25 Oct 1983: The Estates Bursar and the Head Gardener reported on the difficulties of grazing Scholars' Piece during the summer. Although sheep were in the meadow they were continually escaping under the railings and causing havoc elsewhere in the college. (Gardens Committee Minutes)
 
---
Gallery 1 - The green spaces of King's
Useful Sources - The green spaces of King's
Catalogue entry for George Salt's Garden Journal (ArchiveSearch) (see 'Links')
National Garden Scheme (the Fellows' Garden is part of the scheme) (see 'Links')