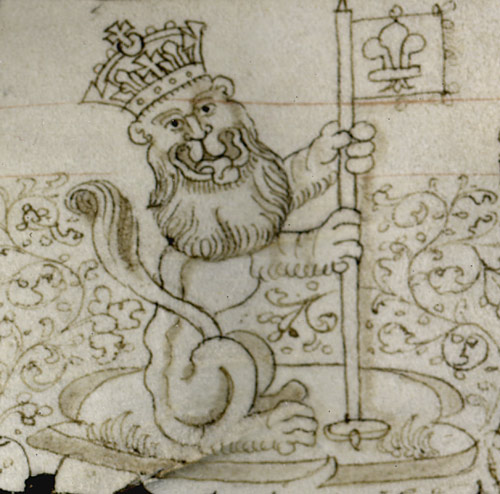 February 2010
The phrase "illuminated manuscript" brings to mind the image of colourful religious texts painted in vibrant hues of red, blue and gold. But not all illuminated manuscripts were religious. From the thirteenth century onwards, an increasing number of secular texts were illuminated.
The practice of secular illumination expanded in the thirteenth and fourteenth centuries with the increased production of formal legal texts and a rise in the practice of embellishing royal charters, exemplifications (attested copies of records) and letters patent.  Letters patent were documents issued by the monarch to grant a right or convey a title to an individual or institution, and were a precursor to the modern patents.
By the end of the fifteenth century the craft of English religious illumination began to wane. But the illuminators adapted their art-form and applied their skills to decorating manuscripts of a purely functional and legal character.
The documents presented this month date from the fourteenth to eighteenth century. They are prime examples of secular illumination and royal portraiture in miniature. These documents and others like them can be found in the College's extensive estates collection, which holds a number of exemplications and royal letters patent. The documents are beautifully embellished with finely detailed initials, often encompassing miniature portraits and exquisite heraldic and floral borders.
Initials which contain a portrait are referred to as "historiated initials". They are a common feature of royal charters and letters patent from the Middle Ages onwards. Typically, the central initial was embellished with a picture of the monarch and was either illuminated or decorated in pen and ink.
The reign of Henry VIII (1509-1547) firmly established the practice of placing the royal portrait in the centre of the initial in charters and letters patent. The portrait miniature as we know it today evolved from the illuminated temporal manuscripts of this period. The first portrait miniaturists were famous manuscript painters from France and the Netherlands. But the practice soon developed in Britain and eventually became a British speciality, with Nicholas Hilliard (1547-1619) being one of the most famous miniaturists of his time.
 
---
Gallery 1 - Secular illuminations: fine art in miniature