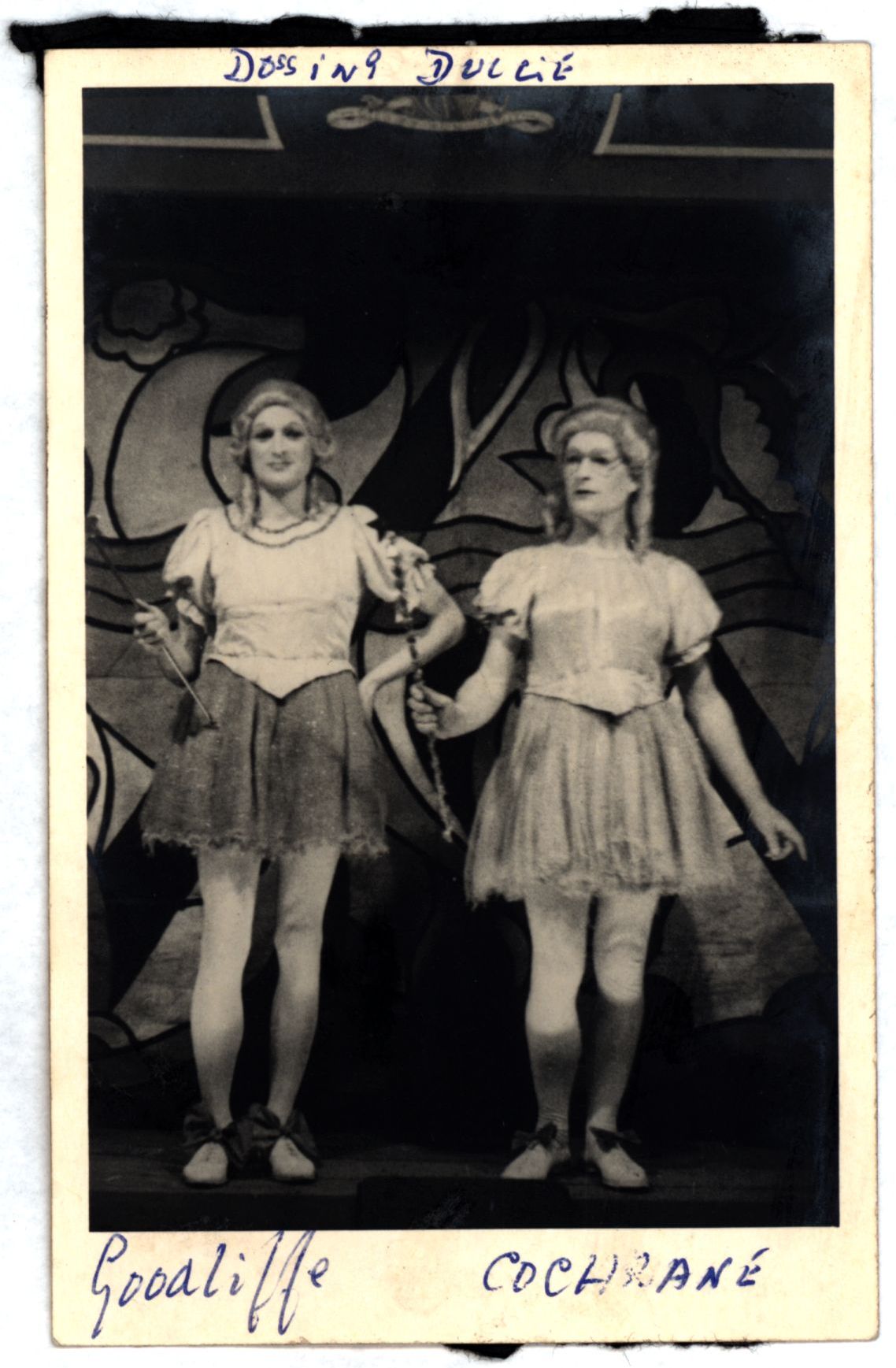 December 2009
A visit to the pantomime is as much a part of Christmas as decorating the tree and giving presents. This month's archival treasure is an array of photographs, handbills and programmes from Christmas pantomimes produced between 1940 and 1943, not in a local village hall, but in three POW camps in Germany. This astonishing collection comes to the archive via the wartime experiences of one of the College's longest serving librarians, Tim Munby.
Alan Noel Latimer (Tim) Munby (1913-1974) was an undergraduate at King's (1932-1935) and the College's librarian for 27 years. Munby joined the Territorials (Queen Victoria Rifles) at the outbreak of war and was captured in Calais in 1940. He was held as a Prisoner of War for five years. As a POW Munby befriended Capt Robert (Bobby) Loder - the creator of this fascinating collection. Munby and Loder were prisoners in Laufen (1940-1941), Warburg (1941-1942) and Eichstätt (1942-1945).
For most POWs life in a prisoner of war camp was characterised by boredom, frustration, hunger and dreams of better days once the war was over. The Loder archive shows that theatre provided a brief escape from this life. Strangely, this was done with the support and aid of the German authorities. Perhaps the Germans felt that if the prisoners were busy with concerts and variety shows they would think less about digging tunnels.
Capt Loder's performances began in the summer of 1940, when the Senior British Officer in Laufen suggested that Loder and his choir should entertain the camp. Loder put together a committee that went on to produce theatrical performances. Details of the entertainments were carefully recorded by Loder in journals like the one shown below, given by the Canadian Junior Red Cross and sent home to his mother. 
Initially the group had very little to work with, no makeup, no costumes and no lighting but they still played to full houses. There were some professional actors within the camp, such as Desmond Llewelyn (Q in James Bond) and Michael Goodliffe (a Shakespearean actor who appeared in some episodes of Inspector Morse). As time went by Capt Loder's productions became better resourced. The costumes for Dossing Dulcie (shown above) were credited as 'supplied by Messrs Diringer of Munich'. The group even managed to stage a production of Hamlet, and Eichstätt saw the world premiere of Noel Coward's play Post Mortem.
 
---
Gallery - POWs in pantomime
Useful links - POWs in Pantomime
Catalogue of the papers of 'Bobby' Loder on ArchiveSearch (see 'Links')
Catalogue of the papers of 'Tim' Munby on ArchiveSearch (see 'Links')