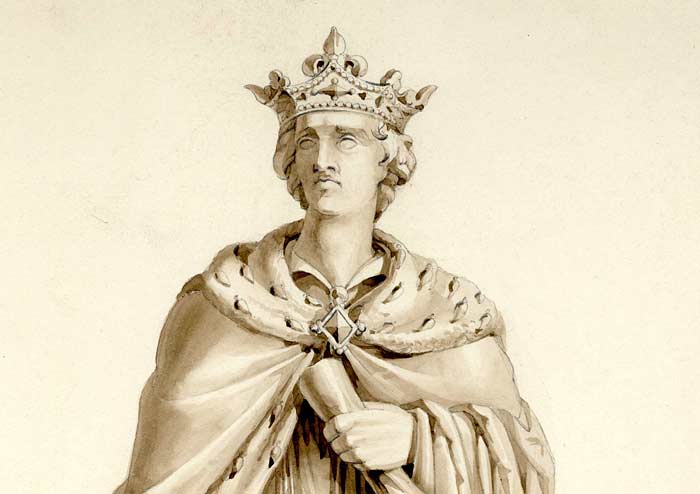 March 2012
This month we feature designs for a monument to the college's Founder, Henry VI (1422-1471). In 1826 Mr Davidson gave the college £700 'for a Statue of the Founder and a handsome Fountain.'
It appears that nothing happened until 1849 when the Provost and Fellows approached the sculptors Edward Hodges Baily and John Henning. Correspondence in the archive shows that the college commissioned Baily to produce designs for a monument. Baily was paid £50 for his work.
Although no documents exist for the designs by John Henning it is likely that he was also commissioned in 1849 or 1850, the dates given on the drawings. It is unclear whether the drawings by Henning are by John Henning Snr or his eldest son John Jnr (1802-57) as the two men often worked together.
Hodges and Henning were fashionable in the mid-nineteenth century so it is not surprising that the college wanted the monument to be designed by one of them.
John Henning (1771-1851) was born in Paisley, Renfrewshire. He was the son of an architect and wheelwright. He moved south in the early 1800s and was commissioned to do work for King George IV. Henning is most famous for his miniature casts of the Parthenon frieze, which took him 12 years to complete. Along with his eldest son John Jnr, Henning, he worked on the classical reliefs for Decimus Barton's triple screen at Hyde Park Corner and the reliefs for the front of the Manchester City Art Gallery. He was a founder of the Society of British Artists and a member of the Royal Scottish Academy and the Glasgow Dilittanti Society.
Edward Hodges Baily RA, FRS (1788-1867) was born in Downend, Bristol. His father was a celebrated carver of figureheads for ships. Baily entered the Royal Academy Schools in 1809 and two years later won the Royal Academy's gold medal. He was commissioned to carve the bas-reliefs on the south side of Marble Arch in Hyde Park, and designed busts and statues of public figures. The most important of these was the statue of Nelson on top of Nelson's Column in Trafalgar Square. Baily was elected as a Fellow of the Royal Society (FRS) in 1842.
Alas, neither Henning nor Baily was selected to design the founder's monument. The money accumulated until 1874 when a design in stone and bronze by Henry Hugh Armistead (1828-1905) was accepted by the college.
 
---
Gallery 1 - Monuments on paper: sketches for the Founder's fountain
Gallery 2 - Monuments on paper: sketches for the Founder's fountain
Useful Sources - Monuments on paper: sketches for the Founder's fountain
Edward Hodges Baily (Oxford DNB) (see 'Links)