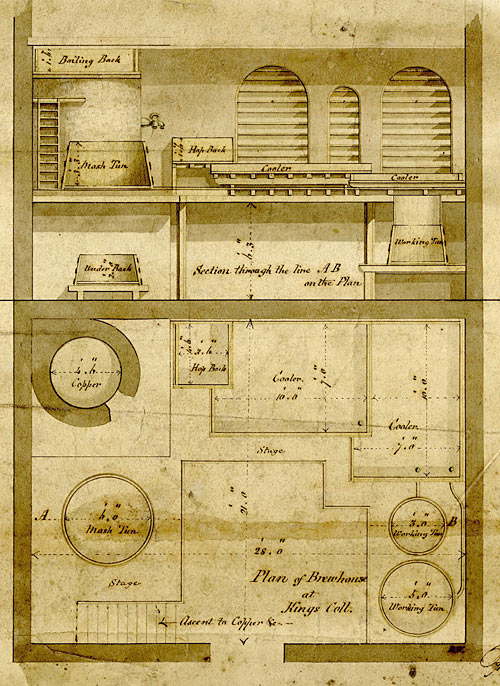 May 2011
This month we uncover some of the documents related to King's very own brew house. The college brewed its own beer until 1881 when Congregation, the college's governing body, voted overwhelmingly to give up the practice.
---
The Founder's Statutes of 1443 state that Fellows were to be provided with a full diet at the college's expense. This was to be in the form of two meals served daily in Hall and a distribution of bread and beer from the buttery commons. The term 'commons' originally meant food and drink provided for all members of a community, in this case the college, at a common expense.
Henry VI wasn't encouraging drunkenness amongst the Fellowship when he stipulated the distribution of beer; he was merely ensuring that the college members received adequate nourishment.
 
---
Medieval beer or ale was a cloudy drink, full of proteins and carbohydrates, making it a good source of nutrition; it was also less alcoholic than its modern counterpart. Beer was a sterile and safe alternative to water which was often contaminate and considered unsafe to drink. The nutritional value of a Fellow's bread and beer allowance clearly served to fill the gulf between two meals a day and a full sustenance.
 
---
The college employed a baker and a brewer to provide for its needs. The wheat and malt were produced and delivered by the college's tenants. The cost of supplying large amounts of bread and ale was significant and formed a sizeable portion of the college's expenditure. It has been estimated that approximately 15% of the college's weekly food budget in the fifteenth century was spent on ale.
Records in the archive provide a picture of just how much beer and ale was consumed throughout the years. In December 1447, 32 pitchers of ale were served in college and documents indicate that in summer term 1643 the consumption of beer was 229 casks, or a daily consumption of 5.75 casks, 11 pints per head - including choristers!
Although a variety of accounting records have survived, it is only by indirect evidence that we know of the distribution and consumption of beer and ale in college. This most likely due to its regularity. It was simply part of everyday life and thus no record was needed.
 
---
One source indicates that the college brewhouse was next to Cory's house on King's Parade and a second places it near the river along with the kitchen and bakery. What we do know for sure is that there was a fire in the brewery in 1871, but there is no evidence that it had been destroyed as the college continued to produce its own beer for another decade. Congregation voted to cease brewing in 1881 and in 1883 voted to turn the brewhouse into kitchen offices.
Following the closure of the brewhouse King's was forced to buy in beer and ale to meet college demands. In 1929-1930 the college spent 162l 2s 0d on ale, stout and cider. The sale of "malt-liquor" and cider was the responsibility of the Butler and his staff in the buttery. In 1911, one could buy a pint of stout or Munich lager for 4d and a pint of Lionbrew ale for 6d. Today, the bar in the Junior Combination Room is responsible for selling beer to college members - a pint will set you back anywhere from £2.42 to £2.75.
 
---
Gallery 1 - Mine's a pint: brewing at King's