King's College Library: 'Tim' Munby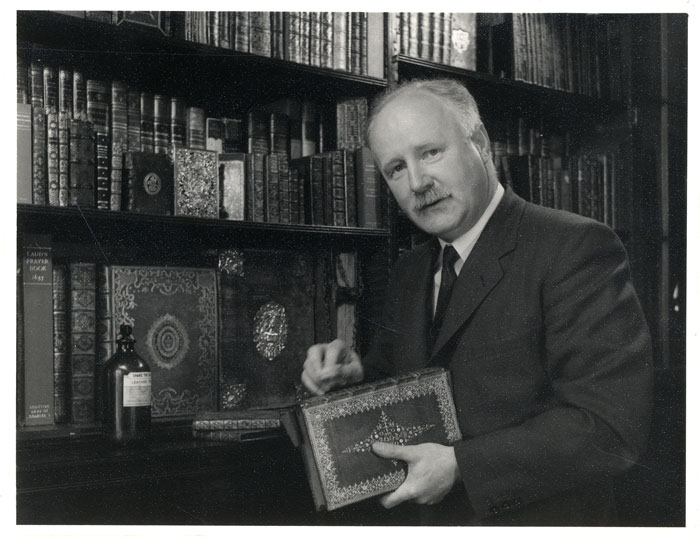 May 2013
Tim Munby was a pioneering book collector, the force who developed the King's College Archives, and a Fellow and Librarian at King's College. His indomitable spirit helped him survive his time as a Prisoner of War and he is fondly remembered for his sense of humour. 
Alan Noel Latimer Munby was born in Hampstead, London, on Christmas day in 1913. Educated at Clifton College, he came up to King's College in 1932. Here he was known as 'Tim' (an abbreviation of 'Latimer'). He gained second classes in part 1 of both the classical and English triposes, obtaining his BA in 1935, his MA in 1947 and Litt D in 1962.
He became a keen bibliophile as an undergraduate, regularly scouring the local book shops. On going down in 1935, he gained work as a cataloguer in Bernard Quaritch's bookshop. During the war he joined the Territorials (Queen Victoria Rifles); he was captured at Calais in 1940 and held as a prisoner of war for 5 years. While a POW he  assisted with producing plays, lectured and wrote to pass the time. After the war he catalogued books at Sothebys.
Munby became the Librarian at King's College in 1947. He listed the Newton manuscripts and relics bequeathed by JM Keynes to King's College. The Modern Archives expanded widely under his influence, acquiring the Charleston papers, the Hayward bequest and many other important collections.
He was made a Fellow in 1948 and was involved in various aspects of College life. He was Praelector from 1951 until 1960 and he was Domus Bursar during the building of the Keynes Building, which was completed in 1967. He maintained his interest in drama as a member of the Ten Club, a playreading society that included other well-known Kingsmen such as EM Forster, 'Dadie' Rylands, Donald Beves and Noel Annan.  His friendship with Major Bill Allnatt was instrumental in Allnatt's donation of the Rubens 'Adoration of the Magi' which hangs in the College Chapel.
Munby's lectures included advice on historical research methods, advocating the study of published references before using rare books and archives. He also drew attention to the importance of sale catalogues as a source of reference for scholars with his 'Sale Catalogues of Libraries of Eminent Persons' (c.1971). Fellow Kingsman and bibliophile John Carter wrote a press release for the book, stating:
Dr. A.N.L. Munby...has long been recognised as our leading authority on the book sale catalogues of the past: he has for example, recorded more than 3000 additions to the list published in 1915 by the British Museum, which has the most extensive collection in the world. (ANLM/4/9).
Munby will receive further recognition in a centenary conference to be held at King's College on 28-29 June 2013.
 
---
Gallery - King's College Library: 'Tim' Munby
Useful Sources - King's College Library: 'Tim' Munby
The Papers of Alan Noel Latimer Munby on ArchiveSearch (see 'Links')
Munby, A. N. L. (Alan Noel Latimer) (1977), Essays and papers : A.N.L. Munby; edited, with an introd., by Nicholas Barker, London : Scolar Press
Bulloch, Penelope (Penelope Anne) (1976), Modern literary manuscripts from King's College, Cambridge : an exhibition in memory of A.N.L. Munby, Fitzwilliam Museum, Cambridge, 1976,  Cambridge: King's College
Hobson, Anthony, 'Munby, Alan Noel Latimer (1913–1974)', rev. Oxford Dictionary of National Biography, Oxford University Press, 2004; online edn, May 2009 (accessed 10 April 2013) (see 'Links')