King's College Buildings: A Photographic Tour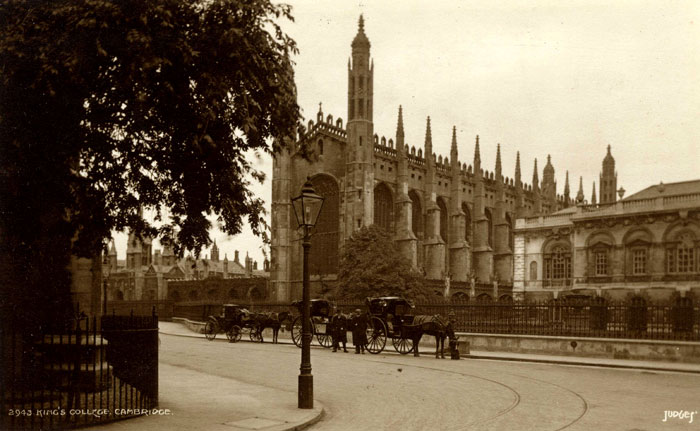 October 2012
In the spirit of virtual tours recently launched on the King's College website, the new series of archive of the month begins with a tour of the College's buildings using old photographs.
Approaching the College from Trumpington Street, Victorian visitors would have passed Cory's house, now the site of the Keynes building.  Passing along the screen and entering the College via the Gatehouse, they would see the fountain in the centre of the Front Court, with the Gibbs building behind it.  This is the second oldest building at King's, designed by James Gibbs and begun in 1724.  Proceeding clockwise around the court provides a good view of the oldest building at King's, the Chapel.  The foundation stone for the Chapel was laid by Henry VI in 1446.
Continuing around the court to the arch under Gibbs' building affords a view of the fountain and gatehouse.  Moving further along the court one can see the Wilkins building, completed in 1828 by William Wilkins.
The archway in Wilkins' building leads to the court of Webb's building, built in 1909 by Sir Aston Webb (1849-1930).  The photograph shows Webb's Court before the new kitchens and Keynes building were built in 1964.  The Keynes building project also changed the appearance of Chetwynd Court, now flanked by the Scott, Wilkins and Keynes buildings but shown here before Keynes was built.
Moving to the back lawn provides the view of the Chapel and Gibbs building familiar to punters on the Cam, who will also recognize G.F. Bodley's building, completed in 1893 with extensions in 1927 and 1955. 
 
---
Gallery 1 - King's College buildings: A photographic tour
Gallery 2 - King's College buildings: A photographic tour