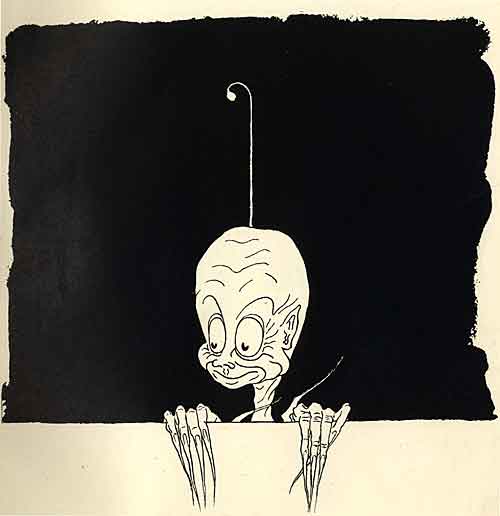 May 2012
This month we feature the humourous illustrations of James McBryde (1874-1904, KC 1893), the man who would become MR James' illustrator.
MR James (Montague Rhodes James) was a respected mediaevalist and biblical scholar. He was Provost of King's College for 13 years (1905-1918) and is best remembered for his ghost stories, which are regarded as among the best in the genre.
---
James McBryde was a student and friend of MR James (MRJ). He came up to King's in 1893 to read Natural Sciences. Although McBryde was 10 years younger than MRJ the pair became firm friends. McBryde joined MRJ's bookish circle and was one of the select few who heard MRJ's ghost stories by the light of a candle in a draughty set of rooms at King's.
 
---
Friendship after Cambridge
The friendship between the two men outlived McBryde's Cambridge career and between 1899 and 1901 they travelled each year to Denmark and Sweden. These adventures would later inspire two of MRJ's ghost stories (No. 13  and Count Magnus) and McBryde's children's book The Story of the Troll Hunt. The story told of three Cambridge men who travelled to Jutland to hunt monsters to bring back to the Fitzwilliam Museum - MRJ was the Director of the Fitzwilliam Museum from 1893 to 1908.
 
---
McBryde and his wife Gwendolyn settled in London in 1904 when McBryde enrolled at the Slade School of Art. Shortly after beginning his art studies, MRJ approached him with the idea of illustrating his ghost stories. McBryde, already familiar with the stories, welcomed the opportunity. On 6 May 1904 McBryde wrote to his friend, "I have finished the Whistle ghost... I covered yards of paper to put in the moon shadows correctly and it is certainly the best thing I have ever drawn..."  Sadly it would be one of the last.
 
---
McBryde died a month later of complications following an appendix operation. He had only completed four illustrations for MRJ's stories before his death. MRJ's publisher suggested another illustrator but MRJ was adamant that no one could replace his friend and that the book (Ghost Stories of an Antiquary) should be published with only the four illustrations as a tribute to his friend.
It has been suggested the McBryde was the love of MRJ's life. MRJ is known to have picked flowers from the Fellows Garden at King's and travelled up with them on the train to McBryde's funeral in Lancashire where he tossed them into his friend's grave.
After McBryde's death, MRJ arranged for the publication of The Story of a Troll Hunt with Cambridge University Press and wrote an introduction for the volume. One of its illustrations is a cartoon of MRJ, James McBryde and William Johnson Stone (KC 1895) sitting on a bench on the Backs plotting their adventure.
MRJ was named legal guardian of McBryde's daughter Jane who was born six months after her father's death. MRJ, the consummate Victorian bachelor, maintained a lifelong friendship with McBryde's widow Gwendolyn and his daughter Jane. The two women became a surrogate family for him.
 
---
Useful Sources - James McBryde: King's own Dr Seuss
Catalogue of the papers of MR James (ArchiveSearch) (See 'Links')
MR James (Oxford DNB) (See 'Links')
James, MR (1904) Ghost-stories of an antiquary, London: Edward Arnold