Identifying Features: Coats of Arms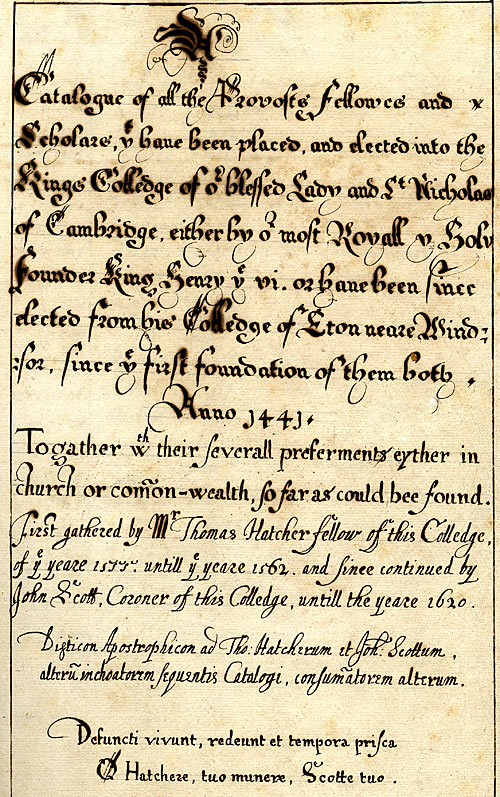 April 2010
Today our identities are verified by PIN numbers, passwords, access codes and photo IDs. In pre-electronic days individuals who needed to prove their social credentials would use their crest or coat of arms.
In English heraldic tradition an individual, rather than a family, held a coat of arms. The coat of arms was considered legal property and it was passed from father to first-born son. Other members of the family could apply for arms modified to indicate their relationship to the current holder, for example by a change of colour or the addition of a distinguishing charge.
A woman who was entitled to have a coat of arms might design new arms combining her inherited arms with those of her husband. The design and use of coats of arms were strictly regulated because of their significance in identification.
This month we showcase 'A Catalogue of all Provosts, Fellows and Scholars of King's College' first collated by Thomas Hatcher in 1555. This list covers the mid-sixteenth to late eighteenth century and includes potted biographies of Kingsmen - some of them quite entertaining - alongside drawings of their coats of arms. The drawings are vibrant and cheerful, almost cartoon-like in quality. Two of the more expressive and colourful entries are given below (spelling and punctuation have been modernised):
Richard Hatton: Doctor of Canon and Civil Law to Henry VIII, he was elected the Provost of King's College 22 March 1507 and remained so for two years. This man was very high coloured in the face, which happened unto him not by any extraordinary drinking, but by a wound which he received, when he was Bursar of the College, as he was going toward London. For as he was travelling on a very extraordinary hot summer day, being faint and weary he rested himself under a tree and then fell into a sleep. His man, 'a welchman' (sic), being by him knew very well that his Master had a good store of money about him. This 'Welchman' set upon him & would have cut his throat but missing his intent he struck him over the face with his dagger; whereupon his Master awaking, being amazed at the blow, fell to struggling with the knave, and overcame him & constrained him. By ... force [he made the man go] before him to the next town and from there he [the Welshman] was committed to the jail where the law had its course against him. And this was the true cause of the redness of his [Hatton's] face, which no physician or surgeon could afterward help. After his being made Provost, he would seldom wear his scarlet gown & being demanded why he did not, he mad this answer "That a scarlet gown did not become to a bloody colour," pointing to his face.
[Parliamentarians eject a Royalist Provost in 1649 during the English Civil War. James Fleetwood, another Royalist Provost, is reinstated by Charles II after the Restoration:]
Benjamin Whichcot: borne at Whichcot Hall in Shropshire, 19th Provost. By Order of Parliament March 19, 1649, Samuel Collins of the year 1592 was ejected from the Provostship of this College after he had been Provost 30 years, and Benjamin Whichcot of Emannuel College, Fellow was placed in his room. Doctor of Divinity 1649, Vice Chancellor 1650, rector of Milton in Cambridgehsire 1651 of the gift of this college. He was put from his place of Provostship by the King's [Charles II's ] official order and was succeeded by James Fleetwood. [He] lived afterwards at Milton and was minister of Blackfriars in London 1663.
 
---
Gallery 1 - Identifying features: coats of arms
Useful Sources - Identifying features: coats of arms
A Catalogue of Provosts, Fellows and Scholars at King's College [KCAC/1/1/11] (see 'Links' tab for ArchiveSearch catalogue entry)