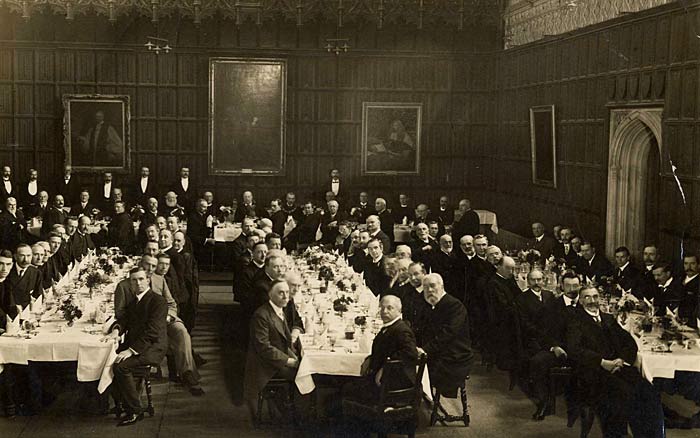 November 2010
This month we take a look at one room in College that everyone at King's is familiar with - Hall.
The Hall was designed by William Wilkins in the 1820s and it is considered one of the most magnificent and dramatic dining halls of its era. It was part of the Gothic-style development the College underwent during the reign of George IV (1820-1830).
When daily attendance at Chapel ceased to be obligatory towards the end of the 19th century, dining together became the most obvious celebration of the communal life of the College.
In the sombre, sparely lit Hall, the gowned students would rise as the Fellows entered and walked its length to the High Table. After a Latin grace, intoned by a scholar, the Fellows would wine and dine on sumptuous food, while the undergraduates would have to be content with more simple fare. Today the emphasis is on equality and informality, but these old rituals are still retained at the termly 'Feasts'.
Documents in the Archive indicate that the first dinner in Hall was held 27 February 1828. Since this time the room has changed considerably.
Originally, the High Table where the Fellows sat was raised on a dais eight inches high. The table lay at the east end of the Hall, next to the door to the outside. This proved awkward because the door to the Fellows' common room (Senior Combination Room) was at the opposite end of the Hall. When the Hall was busy, the Fellows were force to elbow their way between rows of students to get to the High Table.
In 1965 the Hall began taking its current form. The High Table was moved to the opposite end of the Hall and replaced by two tables that stood at floor level. Two years later the roof was repainted a lighter colour and regilded using £1000 donated by Dadie Rylands. At the same time the panelling was bleached, and the heraldic carvings coloured. The redecoration was finally completed in 1973 when 30 new oak tables and chairs were commissioned.
Today the Hall seats over 300 people for formal banquets and a number of luminaries - including the Queen - have dined here. The Hall is available as a conference and dining venue (for 'Conference and Dining', see 'See also').
The documents below track some of the changes in the furnishings and layout of the Hall from that first banquet in 1828 to today.
 
---
Gallery 1 - Georgian Gothic: the Hall at King's
Useful Sources - Georgian Gothic: the Hall at King's
Catalogue of documents relating to the Hall on ArchiveSearch (see 'Links')
William Wilkins (Oxford DNB) (see 'Links')