George Salt: Alpine Peaks and Parasites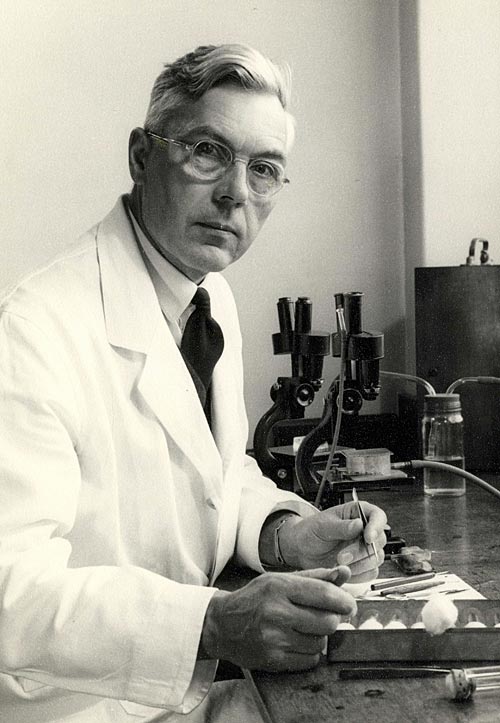 November 2011
This month we feature the colourful illustrations of George Salt (KC Fellow 1933).  Salt completed the drawings in 1974 when he was in his 70s. They illustrate a lecture he had given in 1946 to the Alpine Club in London.
---
George Salt arrived at King's in 1933 by way of the University of Alberta (Canada) and Harvard University. He was elected to the Fellowship in 1933 and remained a fellow until his death at the age of 99.
In college, Salt was known as a curmudgeon. He was critical of the mischievous, disorderly and sometimes disreputable conduct of some of his colleagues and he did not hesitate to tell them so. Some college members found him terrifying and would probably have been suprised if they had known about his exploits as a young man.
 
---
In his younger days, Salt spent a great part of his time travelling and researching insect parasites and their hosts. On one of his trips, in the wilds of northern Colombia, he was forced to bargain for his life in broken Spanish with an armed bandit who was intent on shooting him. On another trip whilst walking in the Austrian Alps, Salt sang for his suppers. When he arrived at a mountain hut he would take down the ubiquitous guitar from its perch above the fire place and sing folk songs in bad German for his room and board.
 
---
When he retired, Salt took up calligraphy. He devoted himself to discovering the writing tools used in different cultures and produced many excellent examples various handwriting forms. Salt also illuminated manuscripts and painted in watercolours and oils with great skill. A number of his manuscripts and calligraphy samples are held in the library and archive. He regularly kept journals and many of these are illustrated with lovely coloured sketches such as those featured below.
 
---
Gallery 2 - George Salt: Alpine peaks and parasites
Useful Sources - George Salt: Alpine peaks and parasites
The Alpine Club, London (see 'Links')
Catalogue of the George Salt papers on ArchiveSearch (see 'Links')