Friends: Forster's Confidants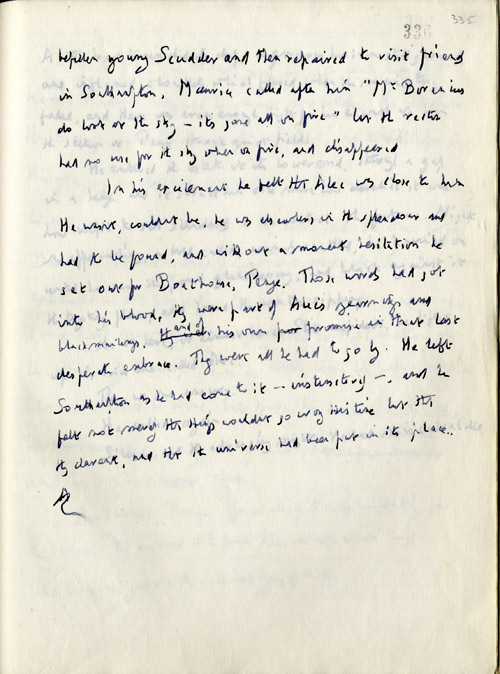 May 2014
Maurice stands out from the rest of E.M. Forster's oeuvre, not least because of the story behind the writing and publication of the novel.
Written at a time when homosexuality was both illegal and taboo, Forster's novel was a candid homosexual love story, which he felt could not be published during his lifetime. This may have been due to concerns about his friends and family. He did share the novel with selected confidants, though, and it may have been this openness among trusted friends which ensured the novel's posthumous publication.
It was a visit to Edward Carpenter which inspired Forster to write Maurice. After relinquishing his orders as a clerical fellow at Trinity Hall, Carpenter wrote books which included The Intermediate Sex (1908), a study on homosexuality. It is thought to have been Goldsworthy ('Goldie') Lowes Dickinson (KC 1881) who had introduced Forster to Carpenter [Abinger p. ix].
Begun in 1913 and finished in 1914, Forster showed the as yet uncompleted manuscript of the first draft to Leonard Hugh Graham ('Leo') Greenwood (KC 1899) and Hugh Owen Meredith (KC 1897, the 'H.O.M.' to whom A Room with a View was dedicated). It is thought that the character of Clive Durham may have been based on Meredith. Once completed, Forster showed his manuscript to Carpenter.
It is fair to say that the manuscript met a mixed reception and Meredith's reaction was a particular disappointment to Forster. Finding a sympathetic friend, Forster confided in Florence Barger, wife of George Barger (KC 1897), regarding the reactions of his other confidants and showed her the manuscript, too.
Seeking both support and criticism, Forster showed his manuscript to another group of friends in 1915. These friends included Goldie, Lytton Strachey and Forrest Reid. These three knew the world which Forster was describing so could give fair criticism. Goldie had been disgusted by some earlier homosexual short stories of Forster's but when shown Maurice his main criticism was of "the Scudder part". Alec Scudder was the under-gamekeeper who Maurice fell in love with at the end. Goldie may have seen certain changes to the manuscript and he seemed to approve of it in the end [Moffat, p. 116].
Years later, in 1960, the existence of Forster's manuscript was common knowledge among his closest and most trusted friends but he had to ensure that it would be published once he died. His actions to that effect included writing his 'Terminal Note' and recording the location of six manuscripts. These were dispersed in such a way as to prevent them all being lost or destroyed.
Copies of the manuscript of this novel are now in the King's College Archive Centre, where they might not have found their way had it not been for the careful consideration of the author and the respect his friends had for his wishes.
E.M. Forster's 'Locked Diary' includes entries relating to Maurice (for a transcript of those sections see Downloads).
 
---
Gallery 1 - Friends: Forster's confidants
Useful Sources - Friends: Forster's confidants
Catalogue of the papers of E.M. Forster on ArchiveSearch (see Links)
Forster, E.M. (1999), Maurice, edited by Philip Gardner, London : Andre Deutsch
Furbank, Philip Nicholas (1977-8), E.M. Forster : a life, 2 volumes, London : Secker and Warburg
Moffat, Wendy (2010), A great unrecorded history : a new life of E.M. Forster, New York : Farrar, Straus and Giroux