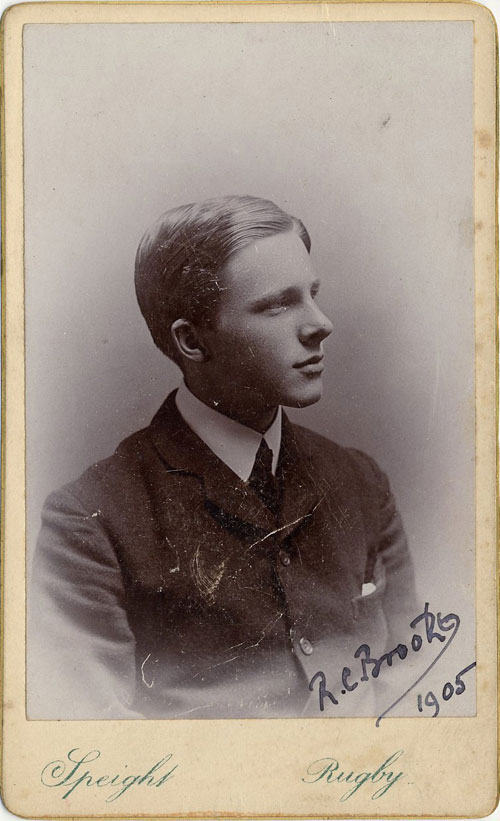 June 2014
Throughout his short life, the poet Rupert Brooke (KC1906) kept close friendships. As the letters below show, he turned to his friends for support at times of stress. This is most clearly shown in his letters to his friends St John Welles Lucas-Lucas (commonly known as St John Lucas) and Erica Cotterill, concerning his admission to King's College. In these, he expressed concerns which have no doubt been felt by generations of Freshers, most of whom, like Brooke, have gone on to enjoy student life.
Brooke's friendship with St John Lucas started in 1905, when Brooke was around seventeen years old. Lucas was a Rugby-born twenty-five year old poet and a graduate of University College, Oxford. In 1905, Brooke was still at Rugby and was just starting to receive recognition for his poem 'The Pyramids', although he was yet to become famous. Lucas became something of a mentor to Brooke - Brooke sent Lucas poems to criticise, while Lucas recommended reading. In one letter, Brooke asked Lucas to send works by 'the three great decadent writers (Oscar Wilde, St John Lucas, and Rupert Brooke)'.
Erica Cotterill was a cousin, on Brooke's maternal side, to whom he wrote as a close friend. Commenting on their relationship, Christopher Hassall (Brooke's biographer) wrote 'It was agreeable for Rupert to have a female cousin and a pretty one who looked up to him as an adviser on matters of culture…'. As well as sharing his poetry with her, he opened up to her about anxieties he seems to have felt unable to share with other relatives.
In the letters below, Rupert Brooke confides in Cotterill that he wasn't confident of getting a Scholarship in Classics, while suggesting to Lucas that he'd be going whether he got the Scholarship or not. After receiving his Scholarship Brooke wrote openly about his first impressions. Though he could be said to have made good use of hyperbole, subsequent letters suggest that the Fresher struggled to settle in to life as an undergraduate at first, but then he became involved in various societies, including dramatic societies (notably the Greek Play Committee), formed close friendships, focussed on his literary interests and eventually became a Fellow of the College.
In case Rupert Brooke's handwriting proves difficult to read, the first letter has been transcribed (see Downloads below).
 
---
Gallery - Friends: Brooke's admission
Group photograph of the Brooke and Cotterill families on steps outside house. Rupert in the centre of the front row (RCB/Ph/9)
Professional studio portrait taken by Burrell, The Cosway Studio, Bournemouth, summer 1906 (RCB/Ph/45)
Useful Sources - Friends: Brooke's admission
Catalogue of the papers of Rupert Chawner Brooke on ArchiveSearch (see Links)
Hassall, C. (1984), Rupert Brooke: a Biography, London : Faber and Faber
Keynes, G. (ed.) (1968), The Letters of Rupert Brooke, London : Faber and Faber
The Rupert Brooke Society