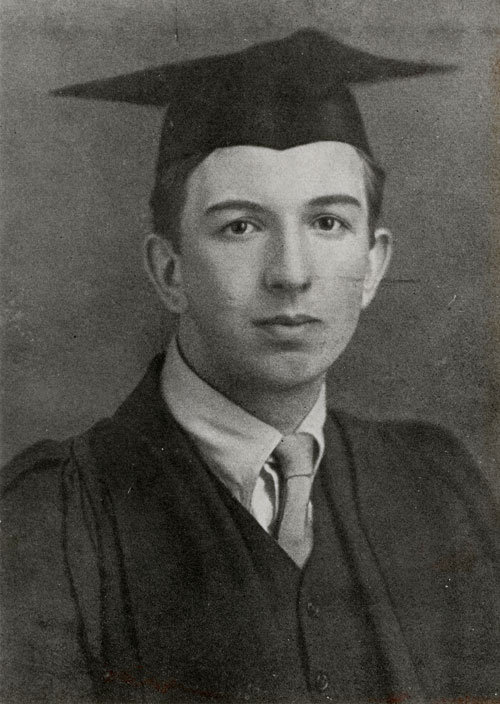 August 2014
Visitors to the King's College Chapel will note that the names of members of the College who fell during the World War One are inscribed in a memorial in its southeast side-chapel. Though the sacrifice of all of these members was equal, two of the names stand out. Those names are Rupert Brooke (KC 1906, Fellow 1913) and Ferenc Békássy (KC 1911).
Brooke stands out because of his well-known war poetry; some may be surprised to see him listed among the Fellows. Ferenc Békássy stands out  because he is listed separately.
Brooke and Békássy were both Kingsmen, poets and members of the Apostles. Despite their similarities, it seems they may not have got on, not least because both had courted Noël Olivier. The War divided them further, as reflected both poetically and historically.
Brooke's collection of five sonnets including 'The Soldier', first published in New Numbers (number 4) in January 1915 then in 1914 and Other Poems in May 1915, suggest that Brooke was keen to serve his country and that to die doing so would be noble. Békássy's arguably less naive poem '1914', which describes the death of a soldier and the experiences he is deprived of, includes the line 'While over the world the gloomy days of the war dragged on'. Both poets seemed to have accepted the possibility of their death at war, although for Brooke this seemed noble and for Békássy it seemed an inevitable consequence of human nature, at least during his time ('For men with labour are born, and men, without wishing it, kill.')
Brooke died of blood poisoning on 23 April 1915 while on duty and became a national hero, with accolades such an obituary note by Winston Churchill in The Times (26 April 1915).
Békássy died fighting in the Hungarian army on the Eastern Front on 25 June 1915.
His death posed a dilemma to the College; should they include on the memorial, those Kingsmen who lost their lives fighting against the Allies?
'The War List of King's College 1914-1918' was drawn up in 1920, as part of a wider Cambridge University initiative. It included the names of fallen members of the College and the School, as well as 'College Servants', but it did not include Békássy.
The Memorial Chapel was designed by Mr Lyon. It was finished and dedicated on 2 November 1921. Here a compromise was found, in which Békássy was inscribed as the lone name under the heading 'Pensioner' (a term used for students who funded their own studies) on an adjacent wall.
This compromise might have pleased John Maynard Keynes (KC 1902, Fellow 1909, Bursar 1919), who appears to have funded the posthumous publication of Békássy's Adriatica and Other Poems in 1925. In the foreword to that collection of Békássy's poems and aphorisms written in English, F.L. Lucas (KC 1920, Librarian 1922) described them as 'evidence of promise unfulfilled'.
Follow the links below for transcriptions of Brooke's poem 'The Soldier' and an earlier draft entitled 'The Recruit', as well as Békássy's poem '1914'.
 
---
Gallery 1 - First World War: Roll of Honour
Useful Sources - First World War: Roll of Honour
Catalogue of the papers of Rupert Chawner Brooke on ArchiveSearch (see Links)
The Rupert Brooke Society
Békássy, F. (1925), Adriatica and other poems, London : Leonard & Virginia Woolf at the Hogarth Press
Brooke, R. (1915), 1914 & other poems, London : Sidgwick & Jackson