First World War: First Eastern General Hospital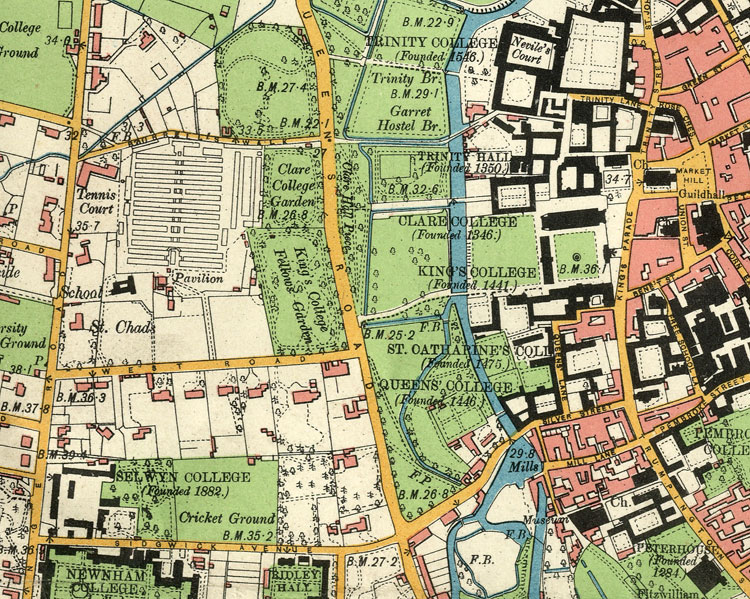 July 2014
Anybody who has ever wondered what the site of the Cambridge University Library was used for before that iconic Giles Gilbert Scott structure was erected may find the answer quite surprising.
King's College, like most of this country's institutions, was greatly affected by World War One. The College lost many members to the war, all of whom are commemorated with inscriptions in one of our side-chapels. The College's land played an important part in local War efforts.
On 17 September 1914 work commenced towards the building of a military 'shadow' hospital on land which had been used as cricket grounds, shared by King's College and Clare College, and eventually became the University Library. On 17 October 1914, the first patients were admitted to the First Eastern General Hospital (Territorial Force), which comprised several rows of huts bounded on the north by Burrell's Walk. On 1 December 1915, an agreement was made with the Cambridgeshire and Isle of Ely Territorial Force Association, which set out the conditions on which the land would continue to be used.
During the War Bodley's building (staircases S-X), which had only been completed in 1893, was relatively empty due to the absence of students on war-time duties. Bodley's building, Scott's building, Fawcett's building and a room in the Gateway were used to house the nurses for the hospital.
After the War, the Cambridge Corporation (now the Cambridge City Council) leased the land for a housing project. In 1925 the land was sold to Cambridge University. They decided that the University Library should be moved from their site next to the Senate House, on land which had once been part of the King's College's Old Court, to this new site on the opposite side of the River Cam. The library was opened by George V in 1934 and now all that's left of the hospital are newspaper cuttings and documents found in archives.
 
---
Gallery - First World War: First Eastern General Hospital (Territorial Force)
Useful Sources - First World War: First Eastern General Hospital (Territorial Force)
Catalogue of the maps of Cambridge held at King's College (ArchiveSearch) (see Links)
Catalogue of the Bursar's subject files (including papers on the site of the Old Cricket Ground) (ArchiveSearch) (see Links)
Guillebaud, P. (2012), From Bats to Beds to Books, Haddenham : Fern House