Fields of Study: Roger Fry's Artworks and Art Criticism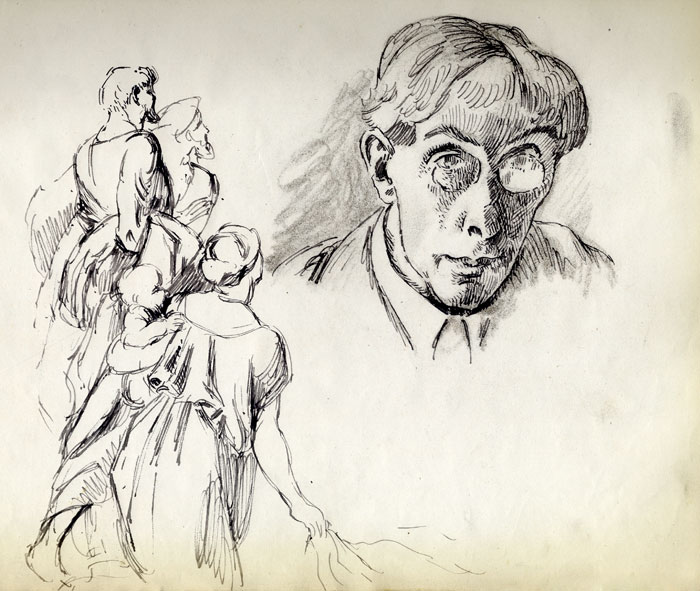 January 2013
Over the next three months we shall focus on well-known figures associated with King's College who have had a profound impact on their particular field of study. The first will focus on a famous art critic.
Roger Eliot Fry came up to King's College in 1885, and was elected to the secret society the Apostles in 1887. Readers who know him from his work as an artist and art critic might be surprised to learn that he took the Natural Sciences tripos. Despite earning a First, he twice failed to secure a Fellowship and he chose to focus on art rather than science.
Upon going down from Cambridge Fry moved to London and studied art under the honorary secretary of the New English Art Club, a competitor of the Royal Academy. Then he spent two months in Paris where he attended classes by Walter Sickert. Further travels included visits to Italy.
In 1894 he lectured on Renaissance art, for the Cambridge University extension scheme. By this time he was an expert on old Italian masters and French Post-Impressionist painters – he is credited with coining the phrase 'Post-Impressionist'. Fry curated two controversial exhibitions of modern French art, 'Manet and the Post-Impressionists', held at the Grafton Galleries in 1910, and 'The Second Post-Impressionists Exhibition', held there in 1912.
Fry wrote reviews for The Pilot and The Nation. He also helped launch the Burlington Magazine, of which he became joint editor (1909-1918). Fry was often outspoken and somewhat controversial.
He was unable to accept an offer to become the director of the National Gallery because he had already accepted the role of curator of paintings at the Metropolitan Museum of Art, in New York. He held this position from 1906 until 1910. He later refused an offer to become the director of the Tate Gallery.
He was awarded an Honorary Fellowship at King's College in 1927, and in 1933 became the Slade Professor of Fine Art at Cambridge University.
Roger Fry's papers at King's College include lectures, correspondence and sketchbooks accumulated by Fry during his lifetime.
 
---
Gallery - Fields of study: Roger Fry's artworks and art criticism
Notes from Leonardo da Vinci's writing on anatomy, physiology and philosophy, c.1885-1899 (REF/4/1/1)
Article on Fry's appointment as curator of Metropolitan Museum of Art, New York, taken from Western Daily Press 7 February 1906 (REF/10/4)
Useful Sources - Fields of study: Roger Fry's artworks and art criticism
Catalogue of the papers of Roger Fry on ArchiveSearch (see 'Links')
Roger Fry (ODNB) (see 'Links')