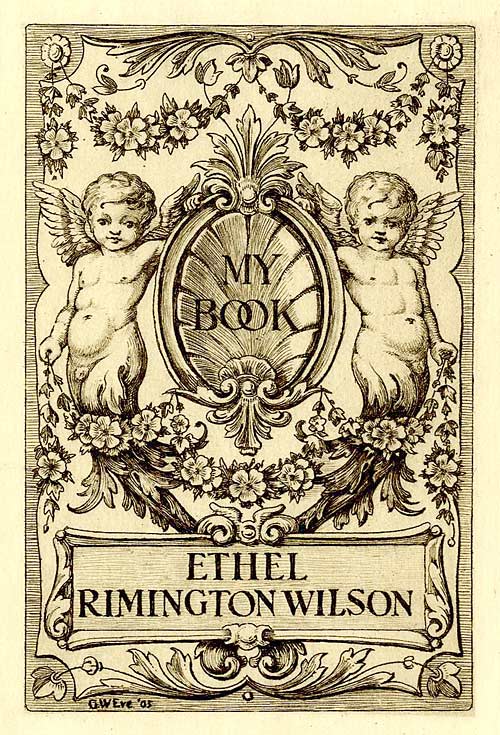 January 2012
If you were given a book for Christmas  how are you going to mark it as yours? Like most of us you probably won't bother, but if you'd received it before the 20th century you might have stuck a bookplate onto the front inside cover.
This month we look at a collection of bookplates that belonged to Kingsman EM Forster or his aunt, Laura Mary Forster.
---
Bookplates started as simple inscriptions in the Middle Ages. The earliest known examples of printed bookplates are German, and date from the 15th century. From the Jacobean period (1567-1625) to the Edwardian era these printed bookplates evolved into elegant engravings and etchings known as ex-libris ('from the books of...'). The ex-libris often incorporate a name, motto and coat-of-arms which relate to the book's owner. Famous artists such as William Hogarth and members of the Bloomsbury group all designed bookplates for themselves and others.
 
---
In the Middle Ages and the early modern period when books were rare and precious, book owners would want to take particular care that if their books were lent or stolen there was a good chance of them being returned.  As printing methods developed and books became cheaper to produce (and to own) bookplates fell out of fashion. Because bookplates were so common in the past, they are important evidence in tracing the provenance of rare and antiquarian books.
 
---
Bookplate collecting began in the 19th century and most collections were built through the exchange of duplicate pieces. Often collectors would have several personal designs just for the purpose of trading with others (see the Bannerman examples below).
 
---
Gallery 1 - Ex libris: bookplates in the archives
Useful Sources - Ex libris: bookplates in the archives
The Bookplate Society (see 'Links')