Estates: Grantchester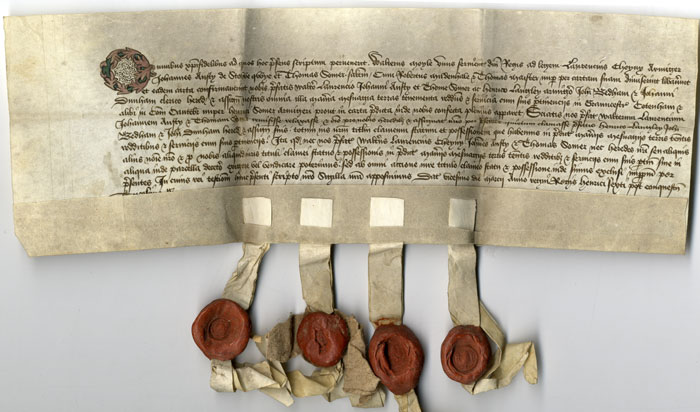 August 2013
Grantchester has long been a popular destination for members of King's College on sunny days. It was made famous by Rupert Brooke's poem 'The Old Vicarage, Grantchester'.
From Cambridge, you can reach the former home of Brooke by walking along the riverside through Grantchester Meadows, shown in the maps below, which is part of the College's estates holdings.
Grantchester is exceptional in terms of King's College's estates, not just because of its beauty or its proximity to Cambridge, lying just a short punt along the river. The late John Saltmarsh (historian, former librarian and Vice-Provost of King's College) wrote and lectured extensively on Grantchester, giving detailed studies of it as a home-farm, as well as describing its field systems.
What we refer to as the Grantchester estate is actually the two manors: Grantchester Burwash and Grantchester Jakes (now farmed as Manor Farm and Lacies Farm). Rather than being bestowed upon King's College by King Henry VI, these manors were the first significant purchase made by the College, being bought from the estate of Henry Somer, in 1452. Saltmarsh notes that Somer was Chancellor of the Exchequer to Henry VI and 'a man of cultivated tastes'.
Colleges tended to use their manors as a source of rental income. But for a brief period, from around Michaelmas 1452 to Michaelmas 1466, Grantchester was used as the College's 'home-farm'. Its location and farming conditions made it perfect for supplying the College kitchen and buttery.
The Enclosure Act for Grantchester was passed by the Houses of Parliament in 1799. The open fields system had been based on large fields being farmed, in narrow strips, surrounding a nuclear village. After enclosure, small farms were fenced off for individuals. This often had significant effects on agricultural methods, for example leases often stipulated particular patterns of crop rotation.
Grantchester thus provides not only an amenity for local residents and inspiration for poets, it is a textbook case for the study of manors and their management over the past 500 years.
 
---
Gallery - Estates: Grantchester
Part of a map of Grantchester by Skinner, 1666, with annotations by a mid 18th-century bursar. (GRA/894)
Part of plan of the King's College estate in Grantchester and Coton. Based upon the enclosure map of 1802. (GRA/781)
Useful Sources - Estates: Grantchester
National Archives research guide on Enclosure (See 'Links')
Catalogue of the papers relating to the College's estate at Grantchester (ArchiveSearch) (See 'Links')
Saltmarsh, John (1967), King's College: A Short History, Cambridge: King's College
Grantchester Jakes:  A College Home-farm of the Fifteenth Century', lecture delivered by John Saltmarsh in 1931 (JS/1/24/1)
The Fields of Grantchester. A Lecture by John Saltmarsh' (JS/1/27)