EML Forster: a Passage to Italy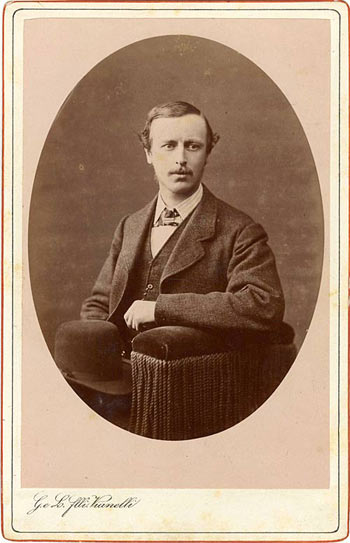 December 2010
This month we look at the sketches of Italy by Edward Morgan Llewellyn (Eddie) Forster, the father of novelist EM Forster.
Eddie was the seventh child of Laura Thornton and Charles Forster, an Irish clergyman. He was educated at Charterhouse and came up to Trinity College, Cambridge in 1866.
His family expected him to follow a career in the church or in law but Eddie had his own ideas and became an architect, studying under Sir Arthur William Blomfield (1829-99).
Eddie spent much of 1874-76 travelling the continent studying (and drawing) French and Italian architecture.
After returning from the continent he faced as much opposition in his choice of wife as he had done in his choice of career. Alice Clara (Lily) Whichelo was from a middle-class family fallen on hard times.
Lily's father, a drawing master, died when she was only 13. After her father's death the family doctor introduced her to Eddie's aunt, Marianne Thornton, who took the young Lily under her wing. Through the Thorntons Lily was able to secure a suitable place as a governess.
It was whilst she was working as a governess that Lily met Eddie for the first time. He was 21 and she 13. Nine years later, in 1877, Eddie proposed. He had just  set up his own architecture practice and he must have seemed quite a catch to the young Lily (just 22).
Marianne was the only member of Eddie's family to be supportive of the engagement. Other members of Eddie's family thought Lily rather beneath him. Lily's own mother adored her future son-in-law, comparing him to her own artistic husband. The couple were married in early 1877, a mere eight weeks after their engagement.
During their early marriage the couple benefited greatly from Thornton patronage. Eddie's sister Laura commissioned him to design a house for her. The house in Abinger, a red-brick mansion known as 'Laura Lodge' and later re-named 'West-Hackhurst' was his first and only large commission.
Lily and Eddie's first baby died at birth, but on 1 Jan 1879 Lily gave birth to a healthy baby boy. The baby was registered as Henry Morgan Forster.
Marianne Thornton was overjoyed by the birth and the choice of name. She was horrified when two months later Eddie mistakenly gave his own name to the vicar, and the baby was christened Edward Morgan Forster. It was decided that God came before government and the name Edward Morgan stuck.
Shortly after his son's birth, Eddie became ill. He died of consumption (tuberculosis) 30 Oct 1880. His death shattered the 25-year old Lily. She was forced to rely on the generosity of her family and in-laws and to pin her hopes for the future on her son.
Forster came up to King's in 1897 to read classics. He received his BA in 1900, then travelled and worked in Europe and India.
When he was in England, he lived with his mother at West Hackhurst, in the house his father had designed. Mother and son lived there from 1925 until Lily's death in 1945. King's made Forster an Honorary Fellow in 1945 and from that time until his death in 1970 he had rooms in college.
Forster left his papers to the college and included within this collection are a number of his father's sketchbooks, drawings and some photographs. This month we feature some of Edward Morgan Llewellyn's sketches of Italy.
 
---
Gallery 1 - EML Forster: a passage to Italy
Gallery 2 - EML Forster: a passage to Italy
Useful Sources - EML Forster: a passage to Italy
Catalogue of the papers of EML Forster within the papers of Edward Morgan Forster (ArchiveSearch) (see 'Links')