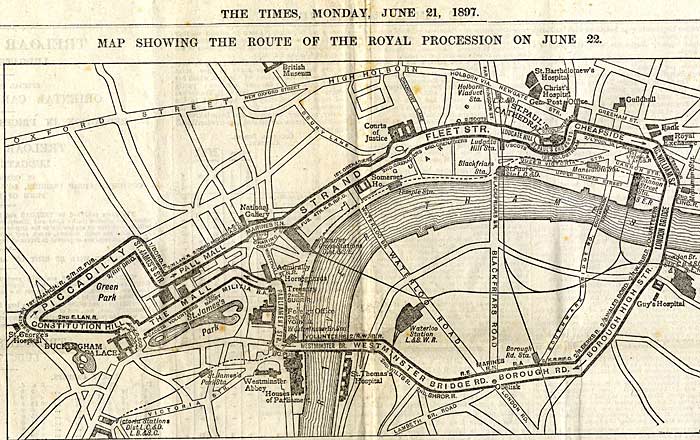 June 2012
This month Britain celebrates the Diamond Jubilee of Queen Elizabeth II. The College marked the occasion in February with a special evensong performance broadcast by the BBC. Over the years King's has commemorated the significant milestones of royalty, Fellows, staff and institutions. This month we take a look at some these special celebrations.
The entries below are from the Governing Body minutes and Council notices of the period:
Queen Victoria: In the spring of 1887 the Vice Provost proposed that the Council make provisions for a college celebration of the Queen's [Golden] Jubilee with budget of no more than £200. He also suggested that the college's principal tenants be invited to a party in Hall during the Long Vacation to commemorate the Jubilee. Ten years later, for the Queen's Diamond Jubilee, the council voted to mark the occasion with a celebration but only if the budget did not exceed £150!

Dr Arthur Henry Mann: On 7 June 1906 Dr A H Mann completed his 30th year as college organist. On that day a large number of his friends, including many college members, met in Hall to present him with a testimonial to commemorate his services to music in Cambridge. In 1926, the College marked Mann's Golden Jubilee with a grand dinner in Hall for the college's non-resident members, former choral scholars, choir volunteers, and former Deans and Chaplains.

Frederick Whitting: In December 1906 a circular was distributed amongst the fellowship advising college members that Frederick Whitting, than Vice-Provost, would be celebrating his 50th anniversary as a college Fellow in early 1907. It was suggested that the sum of 50 guineas be collected from present and former fellows, and resident graduate members of the college, with the view to purchasing a silver salver and silver candlesticks. Contributors were asked to remit a sum not exceeding 15s to the Provost.
 
---