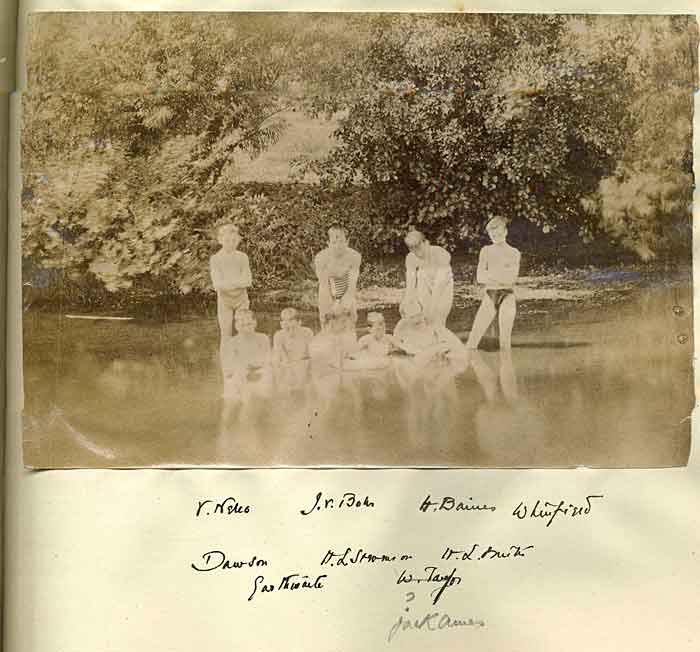 April 2012
This month we showcase the sketches and watercolours of Hubert Llewellyn Smith (HLS), civil servant and social researcher. The drawings are from the collection of architect and designer Charles Robert Ashbee (CRA). They are in a diary belonging to Syd Clark, one Ashbee's artisans. The journal and drawings recount the Guild and School of Handicrafts' trip to Kent in the summer of 1889.
---
Ashbee and Llewellyn Smith
Ashbee and Llewellyn Smith most likely met at Toynbee Hall, East London in 1888. Toynbee Hall was one of the original settlements set up in East London to alleviate inner city poverty. Its goal was to build a community where Oxbridge students could work on their holidays among the labouring classes to improve their lives. The students visited the poor, taught literacy classes and ran clubs for boys.
 
---
HLS went up to Corpus Christi College, Oxford from Bristol in 1883. He became involved in the 'New Oxford Movement' and improving the conditions of the working poor. HLS was a follower of John Ruskin and the Arts and Crafts Movement.
After leaving Oxford, HLS lectured for the Oxford University Extension Delegacy and the Toynbee Trust. His work on migration, the labour market and poverty brought him into contact with leading social scientists and activists of the period, including Charles Booth and Beatrice Potter Webb.
In 1893 HLS was appointed the first labour commissioner on the Board of Trade. In this role he was instrumental in developing unemployment policy and minimum wage legislation.
 
---
HLS had strong artistic interests and sketching was one of his favourite hobbies. From his earliest ties to the Arts and Crafts Movement in East London HLS maintained a lifelong interest in crafts and the training of craftsmen - explaining his friendship with Ashbee.
 
---
Gallery 2 - A trip to Kent: sketches by H Llewellyn Smith
Useful Sources - A trip to Kent: sketches by H Llewellyn Smith
Catalogue of the papers of Charles Robert Ashbee (ArchiveSearch) (see 'Links')
Hubert Llewellyn Smith (Oxford DNB) (see 'Links')
Charles Booth's London (London School of Economics) (see 'Links')
Toynbee Hall, London (see 'Links')
Crawford, A (1985) C.R. Ashbee; Architect, Designer & Romantic Socialist,  New Haven ; London : Yale University Press