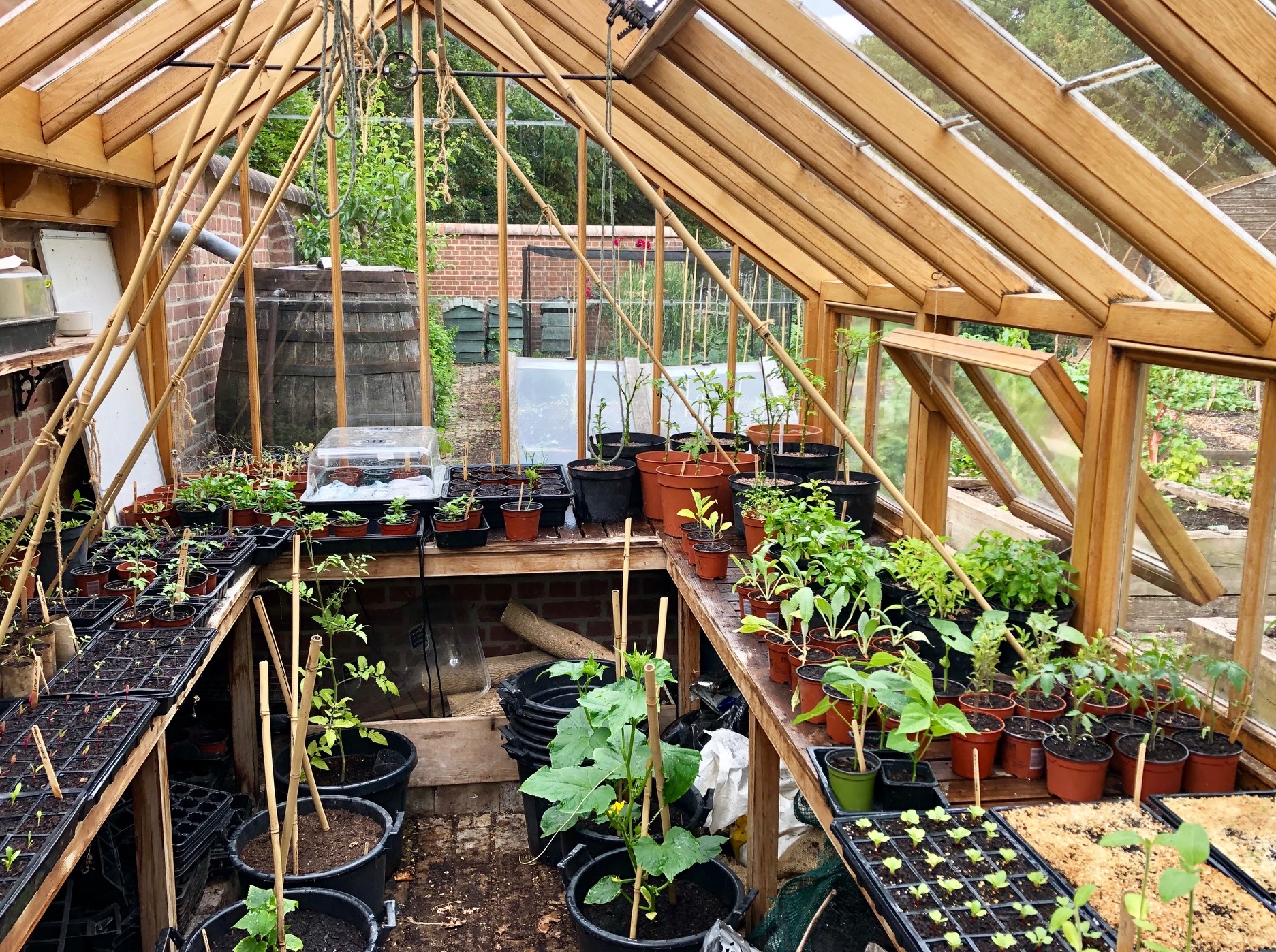 Growing our own food can play a big part in preserving our local environment, reducing our carbon footprint and providing pollinators a space to thrive. The College has three allotment plots managed by students who grow a wide variety of herbs and vegetables alongside flowers such as nasturtiums and marigolds which help to ward off pest species. The King's orchard consists of more than thirty fruit trees of all different varieties – apples, plums, pears, greengages and more – with the produce being used by the kitchens to make their delicious desserts!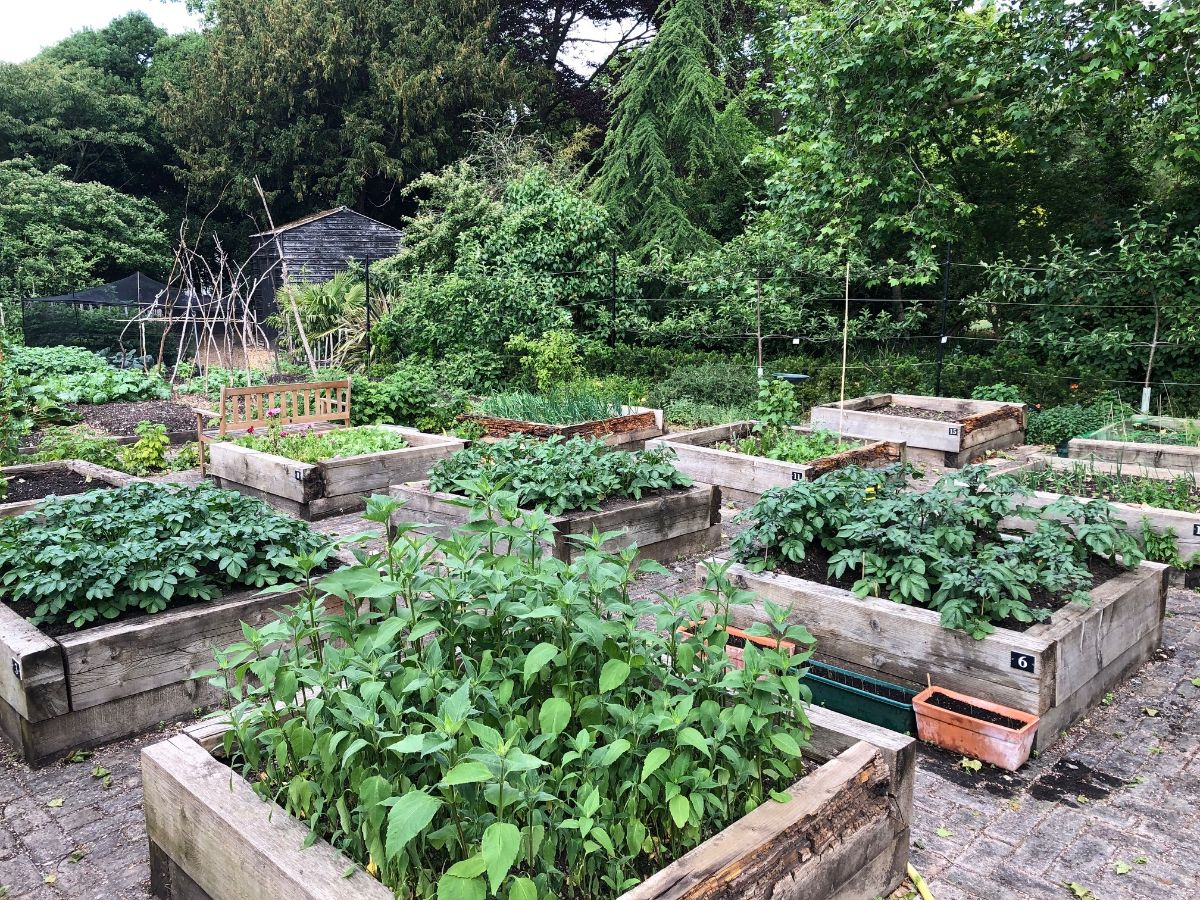 Our accommodation at Garden Hostel has a sizeable plot of allotments which are given over to students at the start of each academic year, comprising a series of raised beds alongside the main plot and the communal greenhouse. A 'no-dig' method is employed in order to not disturb the soil too much and foster soil development. In any given year you might find potatoes, onions, carrots and parsnips growing alongside maize, courgettes, flower sprouts, kohlrabi, rhubarb, celeriac, salsify, beetroot, turnips, beans, squashes and asparagus, with tomatoes, cucumbers and chillies getting going in the greenhouse. Companion planting with various herbs, and flowers such as nasturtiums and tagetes, helps to provide additional forage for pollinators whilst helping to ward off various pest species.
At the College's award-winning Passivhaus buildings on Cranmer Road, the landscape is also geared towards biodiversity and sustainability. A matrix planting scheme is in evidence with lots of herbaceous perennial plants, as well as another set of student allotments and fruit espaliers which not only give some privacy but also something to eat in the autumn.
 
---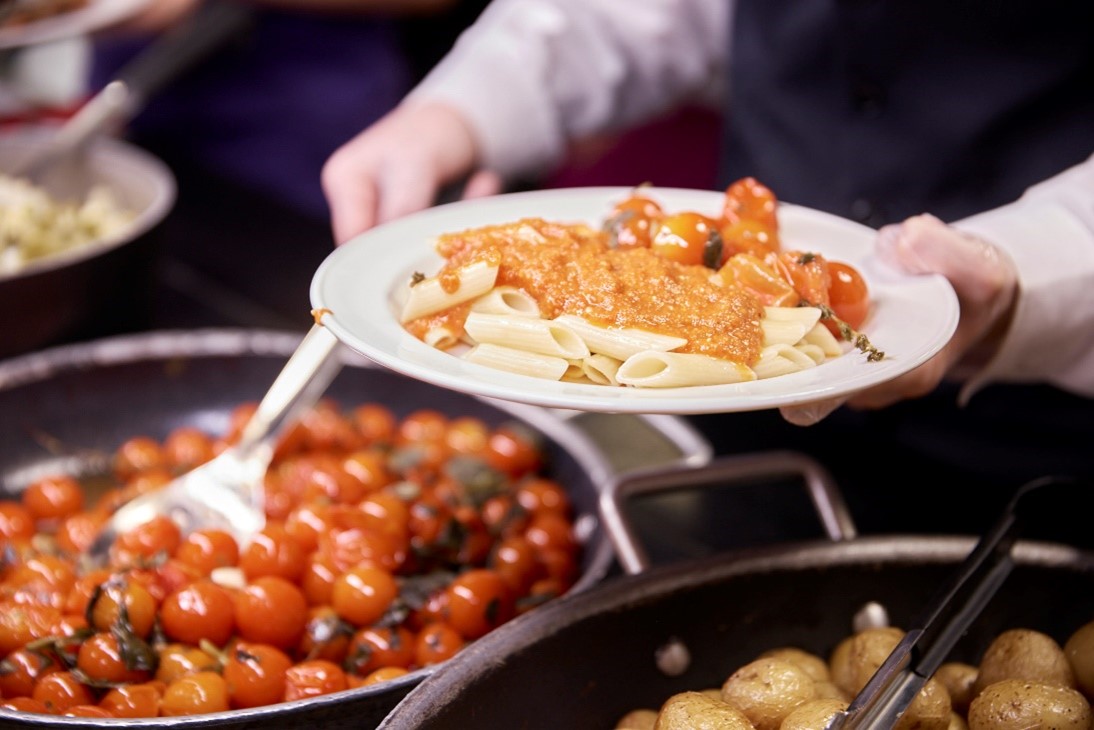 Low Carbon Meals
In the UK, a fifth of people's annual carbon footprint comes from the food they eat. If we are to reduce global carbon emissions we need to understand the carbon impact of our food choices. King's Catering Department labels food so that it is easier to choose the meal with the lowest carbon footprint, taking into account the emissions caused by producing the food and the distance the food has travelled to get to Cambridge.
A low carbon meal is a meal whose ingredients produce lower greenhouse gas emissions from farming/feeding, processing, transport and storage. The foods with the lowest carbon footprints are local seasonal vegetables, cereals and fruit. Food flown from across the world, or grown in heated greenhouses, produces considerably more carbon emissions. Animal products are generally higher in emissions, and the worst of all these are beef, lamb and hard cheese. In addition, frozen meals produce high emissions due to the power used to maintain them at low temperatures.
At King's, student formals always have vegetarian starters and there will be no red meat served at any formals this year.
Cutting Carbon
The College has been making significant efforts to cut its carbon emissions year-on-year. We have been installing methods of generating renewable energy, replacing old boilers with energy-efficient ones, and improving the insulation of our historic buildings. The Catering department buy locally and seasonally, both to get the freshest food and to reduce their carbon footprint, and the use of single-use containers in the servery has been abolished. We use low-energy cookers and lightbulbs, and College supplies are also sourced locally wherever possible, and the use of paper discouraged except where necessary.
The IT department has used virtualisation software to mimic physical servers, and in doing so has cut the number of servers in the college from over twenty to just two. This has cut the electricity consumption in the server room by two-thirds.
The College operates a cycle-to-work scheme through Cyclescheme, providing tax-free loans for the purchase of bikes and cycling equipment, and interest-free loans for the purchase of season tickets for staff who use public transport. Charging points for e-scooters are available at some of our accommodation buildings and will soon be installed on the main College site. For students, King's has a sustainable travel policy which stipulates that the lowest-emissions mode of travel that is feasible should be chosen for journeys funded by the College.
---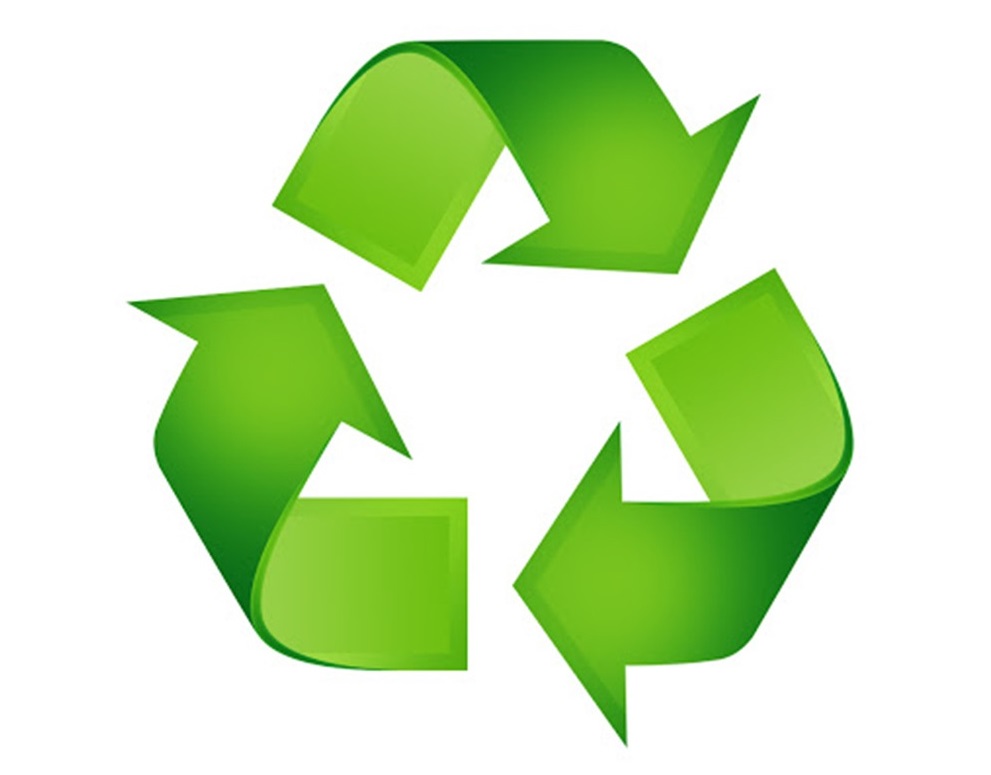 The College recycles everything from glass, plastic, and food to batteries, clothing and mobile phones. The Housekeeping Department recycles all cleaning cloths and bottles, and has a stock replacement policy where cloths and bottles are not replaced until the old ones are returned used or empty.
Old bedclothes left behind are donated to Jimmy's night shelter for the homeless or to the Cats Protection League. College furniture is stored and re-used or donated to charity. Most of the garden waste is composted on-site (70-100 tonnes a year). The compost is then spread back on the gardens. Unclaimed bicycles are donated to a local charity called Opportunities Without Limits (OWL), which provides vocational training for adults with learning disabilities.
 
---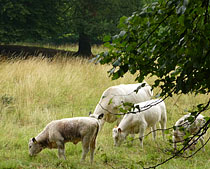 King's is most famous for its buildings, but it also has a long tradition of tending animals and gardens. The Back Lawn once contained a kitchen garden, and sheep grazed the grass to keep it short. Scholar's Piece behind King's contained the College orchards and pasture for the Fellows' horses. Today Rare Breed cattle graze on Scholar's Piece. They not only keep the grass short enough for a variety of grasses and flowers to flourish, but their dung provides a breeding place for insects, which in turn provide food for the birds.
We encourage wildlife in the gardens at King's by providing bird boxes, bumblebee houses and log piles. We also make the gardens more peaceful by using electric instead of petrol mowers. The accommodation buildings at Garden Hostel and Cranmer Road both offer allotments for students to grow their own food. The gardeners look after the allotments in the summer when the students are away. We use environmentally-friendly products, including solvent-free glues and paints where possible, as well as environmentally-friendly cleaning products.
 
---