King Henry VI Circle Event 2023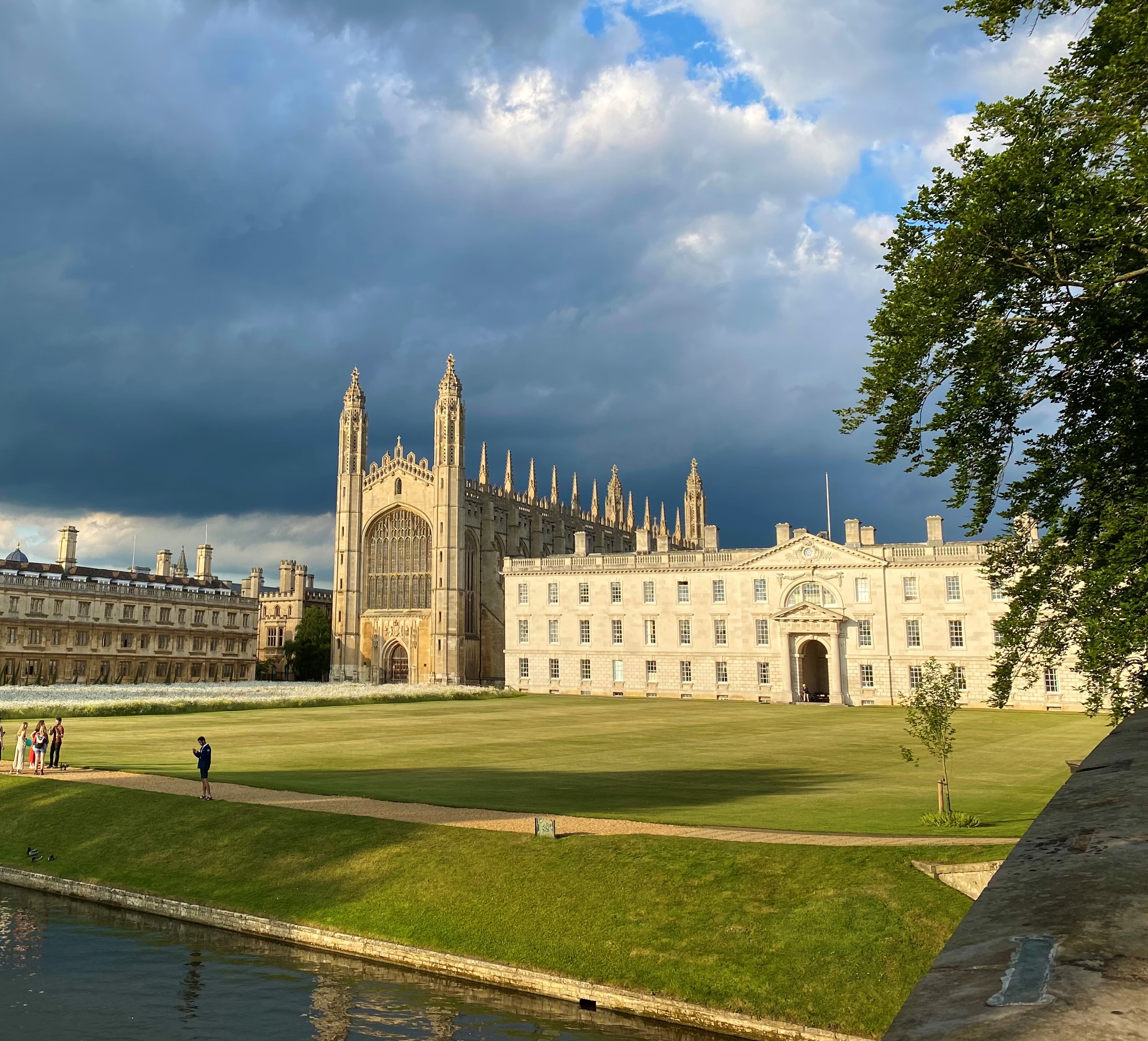 We ask all King's Legators (those who have pledged a gift in their Will) to Save the Date for our annual King Henry VI Circle Event on Saturday, 4 March.
Legacy giving plays a vital role in the continued success of the College; individual gifts greatly benefit King's, and they are one of the most powerful and thoughtful ways in which alumni, friends and supporters can be part of the College's future. King's is incredibly grateful for all Legacy gifts and is so pleased that it can recognise its Legacy pledgers at this daytime event. This annual lunch and afternoon programme is open to all members of the King Henry VI Circle, plus a guest.
THIS YEAR'S SPEAKERS
Dr Gabriela Montejo-Kovacevich
Gabriela is an evolutionary biologist originally from Spain, with a passion for natural history. She came to the UK to read Biology with Conservation and Biodiversity at The University of Sheffield, where she immersed herself in research. This led to four publications in a range of topics, from testing eco-evolutionary dynamics of stick insects in California to modelling sustainable timber harvesting by collecting butterflies in the Brazilian Amazon, which was the basis for a Master of Research with Professor David Edwards. For her PhD, she joined Professor Chris Jiggins at the Department of Zoology in Cambridge to study adaptation to altitude in tropical butterflies. By combining extensive fieldwork along the Andes, experiments, and whole-genome sequencing of over 600 butterflies, she has shed light into the phenotypes and evolutionary processes that allow organisms to inhabit a wide range of elevations in the tropics.
Gabriela's current and future work focuses on rapid evolutionary adaptation, through study systems such as invasive Helicoverpa moth pests in Brazil and insect biocontrol releases in the Cook Islands, New Zealand. She believes that understanding how organisms adapt rapidly to the environment will elucidate key conditions for the survival of species in the face of global change.
Dr Sophie Pickford
Dr Pickford is an Art Historian working on Bloomsbury Art and the Ballet. She graduated with Starred First Class Honours in History of Art from King's College, Cambridge, where she was a Scholar and recipient of the Rylands Prize, and where she is now a Bye Fellow and Tutor. Dr. Pickford was awarded both AHRC funding and a St. John's College Benefactors' Scholarship for her PhD research into Renaissance French Château Interiors, supervised by Professor Jean Michel Massing. Following this, Dr. Pickford became a Junior Research Fellow at St. Edmund's College, Cambridge, and was a Research Associate for an AHRC-funded project led by Professor Deborah Howard. She then moved into law, working as a lawyer for several years before returning to Academia. Dr. Pickford now lives and works in Cambridge, teaching and lecturing in the History of Art Department at the University of Cambridge, as well as working on the pedagogy of research supervision.
Professor Michael Proctor
Provost of King's College since 2013, after 39 years as a Fellow of Trinity College, where he was successively Tutor, Dean and Vice-Master. After two years on the faculty of MIT in the mid-seventies, he returned to Cambridge in 1977 as a university lecturer. Until his retirement in 2017, he was the Professor of Astrophysical Fluid Dynamics in the Department of Applied Mathematics and Theoretical Physics. He has been a Fellow of the Royal Society since 2006.  His research is concerned with the generation and dynamics of magnetic fields in the sun and other astrophysical bodies.
THE EXHIBITION
Women at King's
Women have been a part of King's right from the start. For hundreds of years we had laundresses, and (especially during and after the World Wars) bedder and catering posts were open to women. This exhibition will draw on the College Archives to document our long history of engagement with female staff, students and colleagues, including the remarkable changes that took place in the 100 years between the founding of Girton and Newnham, through women becoming members of the University, and the 1972 admission of female undergraduates at King's as one of the three all-male Colleges who were the first to admit women.
If you can't make it on the day, many of the documents can be seen on the Archives webpage - but there will be so much more at the 'live' exhibition.
REGISTRATION
Invitations to register for the event will be sent in December 2022.  
To register interest, please email: events@kings.cam.ac.uk 
PARKING
A limited amount of parking will be offered in College on the 4 March.
All parking in College is offered subject to availability on the day. There are also a number of car parks in and around Cambridge, including the Grand Arcade car park on Corn Exchange Street and Park Street car park. More information about parking in Cambridge can be found online at www.cambridge.gov.uk/parking. Blue badge parking is also available throughout the city.
ACCOMMODATION
A limited number of College guestrooms are available to Members who wish to stay in College overnight. For availability and prices please contact the Porters' Lodge directly by emailing guestrooms@kings.cam.ac.uk 
Guestrooms can also be booked at other colleges via the University Rooms website. If you wish to stay overnight in Cambridge but would like a few creature comforts (a television, room service etc), a number of city centre hotels offer a University Members' rate. Please visit: www.alumni.cam.ac.uk/benefits/camcard for further details.
LEGACY GIVING
Whether you are an existing College Legator or someone who is thinking about leaving a gift in their Will to King's College Cambridge, we would be delighted to hear from you. Your intentions matter and we encourage you to talk to us about them. By confirming your plans, it lets the College know what's important to you and where you would like your gift allocated when the time (eventually) comes.
Tel: +44 (0)1223 331481
Email: legacies@kings.cam.ac.uk
Of course, King's would like to recognise you appropriately for your most meaningful gift. However, this is your choice and if you prefer to stay anonymous, we respect that.
King's College Cambridge recommends that all individuals seek independent, qualified advice before making a charitable bequest.