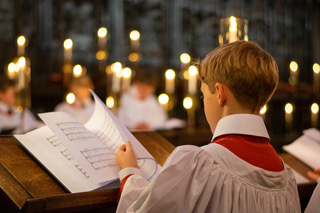 A Festival of Nine Lessons and Carols signals the beginning of Christmas for millions of listeners across the world. The service consists of a series of Bible readings interspersed with both new and traditional hymns and carols sung in the majestic beauty of the 15th century King's College Chapel.
The service has been broadcast live from a packed chapel on Christmas Eve for over 90 years, but for safety reasons it had previously been decided that no congregation could be present this year. In the face of Covid-19, King's also decided to make a recording of the service a few weeks before Christmas as an additional precaution. In the light of current conditions, it is this recording of 2020's A Festival of Nine Lessons and Carols that will be broadcast at the usual time on 24 December.
Sad though we are not to be together in the Chapel for the service on Christmas Eve, we are delighted that we will be able to share our Festival of Nine Lessons and Carols this year. The amount of travel involved in gathering the choir and crew from around the country for the service, and the possible risks of infection at a time when the statistics are getting worse, made this the responsible, safer and more prudent option.
Revd Dr Stephen Cherry, Dean of King's College
King's is hugely proud of its Choir and Chapel and we prize very highly the traditions of Christmas Eve. Although we are devastated that the service will not be sung live, it is very much this year's service with this year's choir, repertoire and lessons: we hope that those who listen will find its beauty and message as comforting and inspiring as it has been every other year.
Professor Michael Proctor, Provost of King's College
We understand and support the College's decision and are delighted that audiences will still be able to hear the Nine Lessons and Carols from King's College that they have come to expect on Christmas Eve on BBC Radio 4.
Tim Pemberton, Head of Religion for BBC Radio
The scheduling information for A Festival of Nine Lessons and Carols will remain the same, with the service broadcast on BBC Radio 4 and the BBC World Service on 24 December at 3pm (10:00 EST or 07:00 PST). The service is also broadcast at 1pm on Radio 3 on Christmas Day, and at various times on the BBC World Service. In the United States the service is distributed by American Public Media and is broadcast by around 450 radio stations, including Minnesota Public Radio and WQXR in New York. An order of service will be available to download from the website for those wishing to follow it alongside the broadcast.