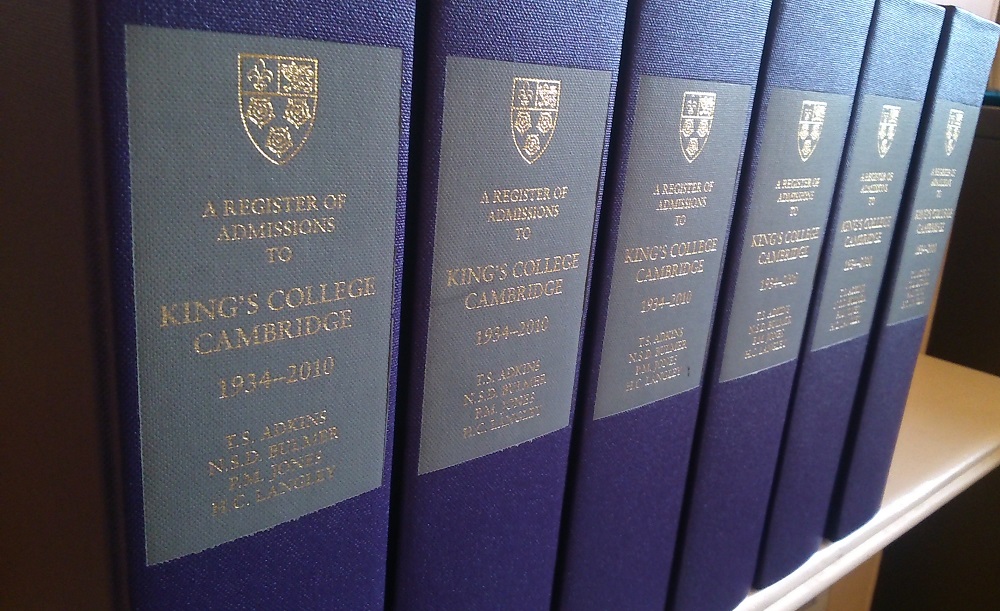 Published in 2018, the seventh edition of the King's College Register of Admissions, edited by Tess Adkins, Nigel Bulmer, Peter Jones and Henry Langley, is available to purchase by bona fide Members of the College.
The Register is a "Who's Who" of the King's community, listed by year of matriculation, and forms a valuable historical record of all those who have passed through the College. Volumes of the Register form a continuous biographical record of King's-folk back to 1797, with the latest edition covering over 9,500 alumni and Fellows who matriculated between 1934 and 2010.
The Register is available at £20 per copy, with £5 post and packing for UK delivery, and £15 for overseas. Copies can also be collected in person to avoid these delivery costs, and the Register will be on sale at Reunions and other College events.
Please place your order in person, by telephone on +44 (0)1223 331313, or by posting or faxing the order form which is available below in the downloads tab. For your own security, please do not send card details by email.
All proceeds from the sale of the Register will be donated to the benefit of the Supplementary Exhibition Fund, to assist current graduate and undergraduate students who may find themselves in financial hardship.
Please note that this edition, unlike its predecessors, will not contain contact details for Members and Fellows: the Development Office is always happy to put you in touch with old friends and supervisors, where we are able.