35th, 40th & 45th Anniversary Reunion 2020 (classes of 1985, 1980 and 1975)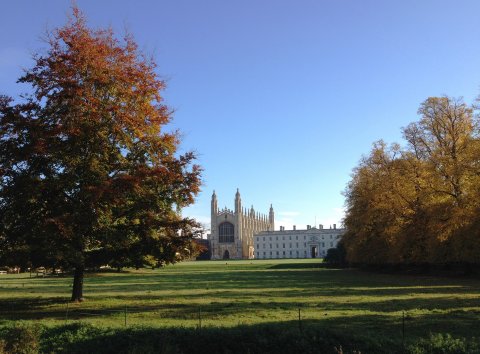 King's College, Cambridge

Invitations to register for the reunion will be sent towards the end of June 2020
On behalf of the Provost and Fellows of King's College, the Development Office is delighted to invite Members from the classes of 1985, 1980 and 1975 for a reunion event in College on Saturday, 26th September 2020 to celebrate their 35th, 40th and 45th Anniversary since matriculation. The classes of 1984, 1986, 1979, 1981, 1974 and 1976 will also be invited to celebrate with the anniversary groups. We would also be very pleased to welcome Members guests.
Please note that there is a charge to attend (Non Resident Members and guests). The confirmed programme will be available in June 2020 when registration opens.
The evening activities will begin at approximately 7.00pm with a drinks reception, followed by a formal dinner in the Hall. Members and guests are also welcome to attend Evensong (starting at 5.30pm) in the Chapel for the first service of the new term.
The dress code for the evening is formal. Black tie is encouraged, but lounge suits or equivalent are also appropriate.
Accommodation & Parking: A limited amount of parking will be available in College from the 25th to 27th September and a number of basic, student rooms are offered for guests who wish to stay in College over the weekend.
Please be aware that due to the Keynes building refurbishment over the 2020 summer vacation all of the Keynes ensuite bedrooms will be out of use for the alumni weekend period.
The College also has a small number of permanent guestrooms that can be reserved year round by contacting the Porters' Lodge directly - please email guestrooms@kings.cam.ac.uk or call the Porters' Lodge on +44 (0)1223 331656 for availability.  Please be aware that 'College guestrooms' are charged at a higher rate than student rooms and are subject to a 9.30am check-out time.
Alternatively, a number of the central hotels offer University member discounts via the CAMCard scheme and you may also book rooms at other Cambridge Colleges via University Rooms.
How you will be invited: Save the date notices will be sent approximately 6 months prior to the date of the event. Invitations to register for the reunion will be sent towards the end of June 2020. All correspondence will be sent by email whenever possible. Only Members from the classes of 1985, 1980 and 1975 (without an email address on record with King's) will be sent postal correspondence.
Please note that Members of King's (from any matriculation year group) are welcome to register for all College reunion events (usual charges apply). Formal invitations will only be sent to the designated year groups, but details for upcoming events can be found on the Members Events webpages and are also listed in the King's Parade magazine biannually.